If you can't make it to one of Tod's flagship stores in Singapore or Hong Kong, console yourself with a trip to their exotic website… or a day-trip to Sak's… either way, make sure you take a peek at their line of handbags, all of them chic and stylish and utterly gorgeous. Tod's offers so many styles and textures and colors, you're bound to find a bag you love. To get you started, here are 7 chic bags by Tod's.
Table of contents:
1

Tod's Easy Sacca Large Canvas Tote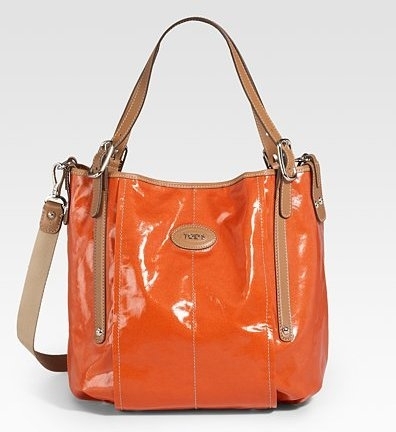 Price: $825.00 at saksfifthavenue.com
What a gorgeous pumpkin color, ideal for use in autumn… though, with its sturdy construction, room interior, and glossy coated cotton canvas make, you'll want to use it all year round! This Tod's bag also offers the convenience of three carrying options: use the top handles to carry it like a tote, or use the detachable shoulder strap to carry it cross-body or sling it over one shoulder. I love it!
2

Tod's Sacca Medium Bag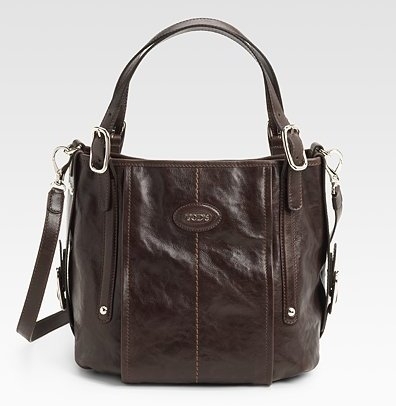 Price: $1,395.00 at saksfifthavenue.com
This supple leather bag features the classic Tod's shape, with a detachable shoulder or messenger-bag strap and dual top handles, with loads and loads of bright silver-tone buckles. I love the distressed finish, and the tin plaque on the front bearing the Tod's signature.
3

Tod's Styling Bauletto Satchel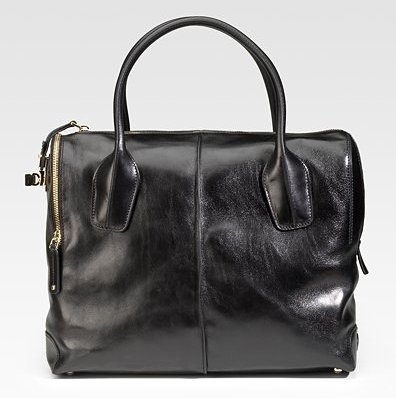 Price: $1,595.00 at saksfifthavenue.com
Oh, how I want this bag! I'd use it for work or school, since it's roomy enough to tote all of the things I'd need for either, or both! It's made of glossy black leather with protective metal feet on the bottom and an adjustable, removable shoulder strap. It has plenty of pockets for keeping all of your thing organized and within easy reach.
4

Tod's Clou Shopping Tote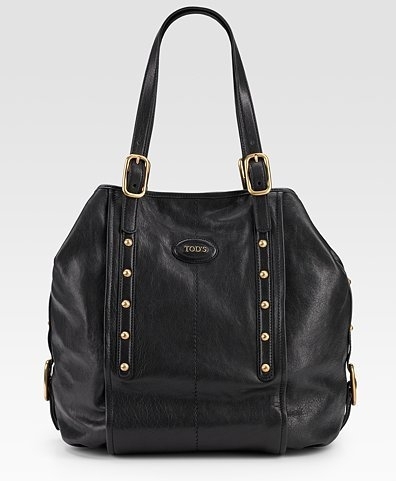 Price: $1,665.00 at saksfifthavenue.com
Prepare for a day of shopping at all of your favorite downtown boutiques with this gorgeous black leather Tod's tote. I adore the bright brass stud details and the dual buckles on the top handles, and the sturdy cotton canvas lining. It's roomy and stylish with loads of room for all your shopping-day treasures!
5

Tod's Sacca Lampo Oblique Media Shoulder Bag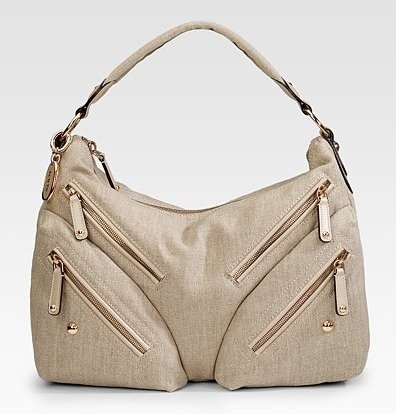 Price: $995.00 at saksfifthavenue.com
Made of gold-washed rose linen, this shoulder bag boasts a slightly sassy design, with four cleverly angled zipper pouches on the front and protective feet on the bottom. There's also a load of shiny gold-tone detailing, including a signature Tod's zipper pull.
6

Tod's Secchiello Medio Bag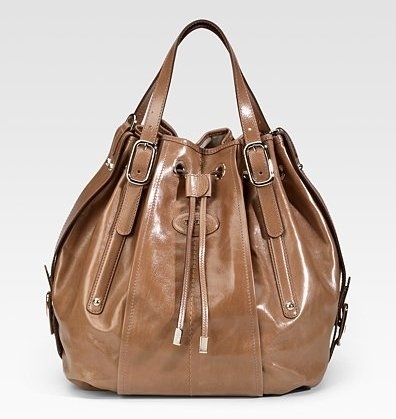 Price: $1,395.00 at saksfifthavenue.com
This lush mocha-colored leather drawstring bag is a Tod's classic, with a removable, adjustable shoulder strap, top handles, and silver-tone buckles and accents. It's roomy and open inside, ideal for carrying all of your workday or errand-running essentials, and I adore the pleat detail.
7

Tod's New Bauletto Medium Satchel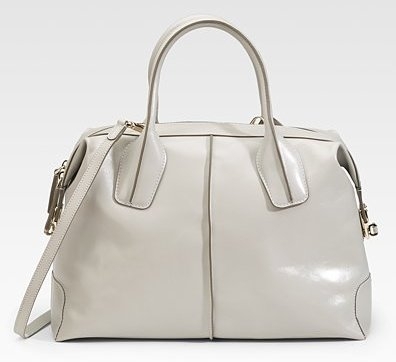 Price: $1,445.00 at saksfifthavenue.com
It's a spring-time tradition, buying a glossy white handbag, and this one by Tod's would be my choice for the year, though it's admittedly a little out of my price range. It's made of stark white leather with contrasting detailing and a set of straps for all sorts of carrying options. Wouldn't this look gorgeous with a black and white print dress and strappy sandals?
These are just a few of the gorgeous Tod's bags available at Sak's, and there are so many more to choose from! I especially love that Bauletto satchel for work… but I'd be delighted with any of them! Which of these Tod's bags do you like best, and why? Do tell!
Please rate this article