Adorable cosmetics bags will keep you organized while looking stylish! Ditch your boring, dull colored organizer for one of these adorable cosmetics bags. These bags will make travel and packing easy and will help keep your makeup organized while at home. They come in a variety of sizes and styles to suit your needs and taste.
---
1

Sephora Summer Bag Collection Ikat Las Vegas Mini Quad Pack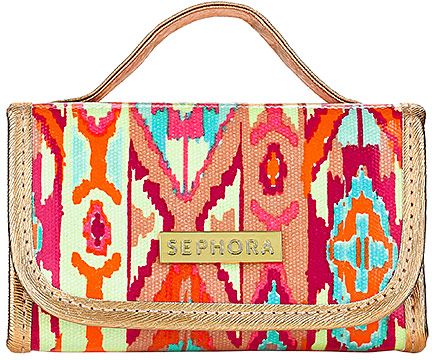 This is one of many adorable cosmetics bags from Sephora that will keep your makeup organized while traveling this summer. The ikat print is perfect for summer wardrobes and the colors are gorgeous—orange, turquoise, and magenta. The bag is small and compact, making it perfect for brushes and liners.
2

Juicy Couture Eau De Parfum Gift Set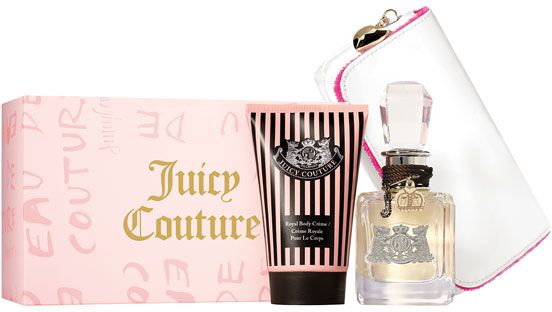 This set from Juicy Couture doesn't just contain an adorable cosmetics bag; it also comes with an eau de parfum spray and a body sorbet, which is a moisturizer. The cosmetics bag is pure white on the outside, but is lined with signature Juicy Couture terrycloth in pink. This cosmetic bag makes the perfect gift for a friend (or yourself!). The bag is compact and classy.
---
3

Trish McEvoy Makeup Planner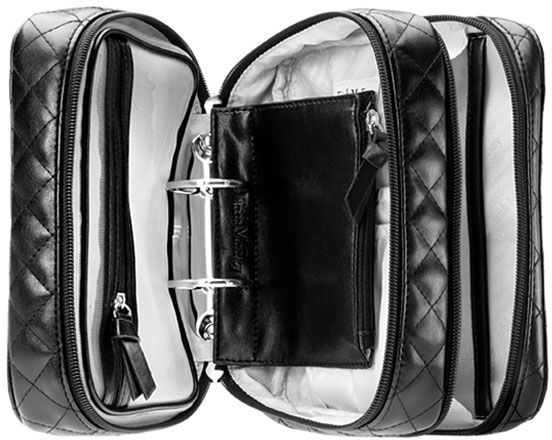 The Trish McEvoy Makeup Planner stores your makeup in addition to helping you stay extremely organized with your beauty routine. Trish calls it "the one-and-only portable makeup vanity." It includes brush sleeves, a large back pocket, a removable pouch, an all-around zipper, and a place to hold Trish's refillable Makeup Wardrobing Pages, which can be custom-filled with any combination of Trish McEvoy eye and face colors. This black, quilted bag is a must-have if you need help staying organized!
---
4

Ted Baker French Bulldog Wash Bag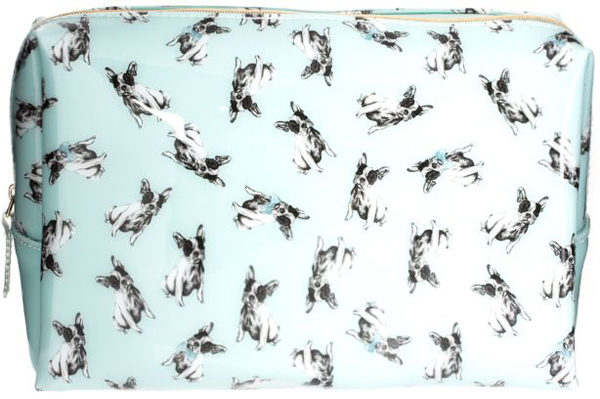 Who doesn't think adorable when they see dogs?! This light blue or pink cosmetic bag, covered in French Bulldogs, from Ted Baker is the epitome of adorable. It's slightly roomier than some of the cosmetics bags mentioned previously, but is still compact enough to not take up too much space in a travel bag.
---
5

MICHAEL Michael Kors Large Jet Set Perforated Cosmetic Case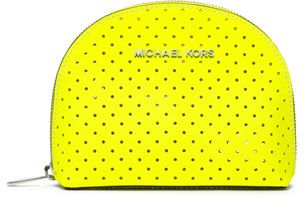 Michael Kors is famous for his sleek and polished designs, making this cosmetics bag no exception. This neon yellow cosmetics bag will brighten up any vanity or bathroom! I love the perforated saffiano leather and the rounded shape of this cosmetics bag. It's at the top of my must-buy list!
---
6

Tory Burch Flamingo Taryn Cosmetic Case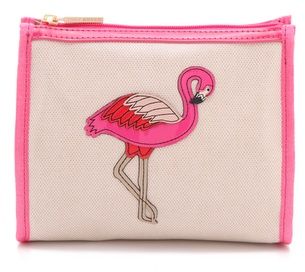 I don't know about you, but I'm obsessed with anything flamingo-related! So needless to say, I am in love with this Tory Burch cosmetic bag! This fun khaki and pink print is perfect for a day at the beach--just load it up with lip balm and sunscreen. The nylon lining makes it super easy to clean out the inside of the bag if one of your products spills, so this adorable cosmetic bag is guaranteed to last.
---
7

Tokyo Milk Girl with Dandelions Cosmetic Bag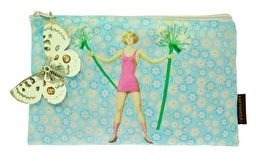 Tokyo Milk is known for their bath products and lip balms, but has recently released a line of adorable cosmetics bags. This one, in particular, has a light blue and white flowered background with a girl in the foreground holding two giant dandelions. To top off the cuteness, the zipper pull features a large paper butterfly. The zip-top closure keeps your items in place and ready for travel.
Throw out your old, dingy makeup bag and stay organized and cute with these adorable cosmetics bags! They are perfect for brigthening up your space or keeping your suitcase neat. Do you have a favorite cosmetic bag or do you change yours out often?
---
Comments
Popular
Related
Recent