4. Maison Scotch Quilted Soft Leather Clutch Bag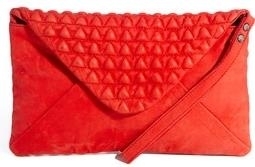 I have been dying for the perfect red leather clutch! This one in particular is so bold and full of texture, but is on the more expensive side at $227.74. If it's worth the investment, then definitely make the plunge and purchase this fabulous eye candy. I actually have an orange-red cross body bag and surprisingly it goes with so many outfits! I could see this ASOS clutch working the same way in its versatility.
Fashion Fan Club Clutch by Modcloth
Explore more ...