The Chloé label is classic, closely associated with elegance and style. But who knew Chloé handbags were so, well, cool? They're not your grandmother's or auntie's handbags… they're amazing! Don't believe me, and still think they're stuffy? Keep reading! Here are 8 gorgeous Chloé handbags.
---
1

Chloé Elsie New Large Evening Shoulder Bag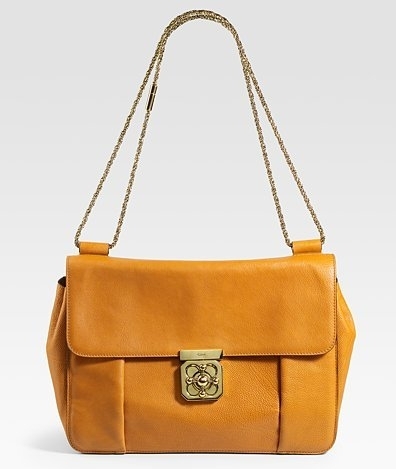 Price: $1,395.00 at saksfifthavenue.com
Available in rich buttery apricot or soft pinkish-brown beige, this gorgeous Chloé bag is ideal for everyday use, and features an adjustable chain strap that can be used cross-body or over one shoulder. It's roomy enough to hold all of your work or school necessities, but with style to spare!
2

Chloé Madeleine Large Duffel Top Handle Bag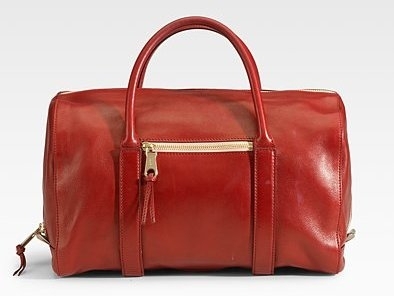 Price: $2,130.00 at saksfifthavenue.com
How urban chic, with a little sporty thrown in for good measure! This bag is shaped like a classic duffel, with dual top handles and a four-inch drop. Choose glossy black or bright brick red, and stash your everyday needs in its three lambskin lined pockets.
---
3

Chloé Aurore Leather Tote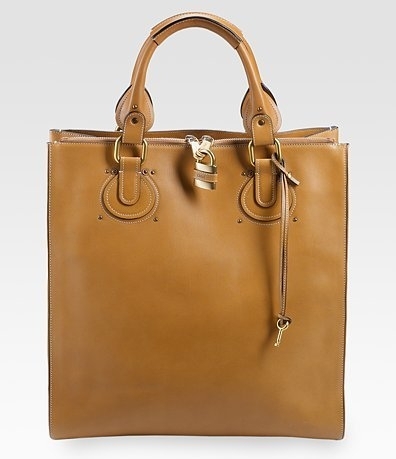 Price: $1,795.00 at saksfifthavenue.com
This sleek leather tote is a gorgeous caramel color, with top handles, an inside cell phone pocket, and even protective metal feet on the bottom. My favorite feature is the tiny gold-tone lock and key details. I'd use this as a work bag, since it's big enough to carry file folders and the like.
---
4

Chloé Marcie New Leather Messenger Bag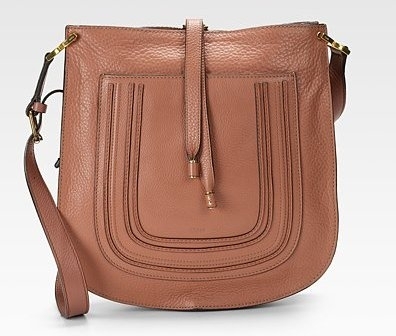 Price: $1,395.00 at saksfifthavenue.com
Is it a messenger bag, or a classic saddle bag, or somehow both at once? This Chloé bag is beautiful, available in two rich brown colors, with a rounded shape, trimmed with dual rows of leather strips. It's lined in sturdy canvas, and can be worn slung over one shoulder, or cross-body.
---
5

Chloé Amy Small Leather Shoulder Bag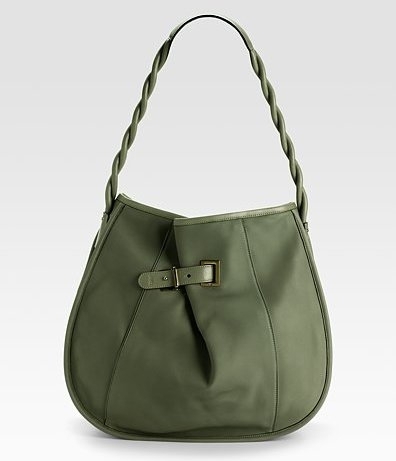 Price: $1,135.00 at saksfifthavenue.com
What a gorgeous color! Of all the gorgeous Chloé bags on this list, this one's my personal favorite, with an interesting off-center buckle detail on the front and a clever braided leather strap, all in a muted forest green. How beautiful!
---
6

Chloé Paraty Medium Perforated Leather Tote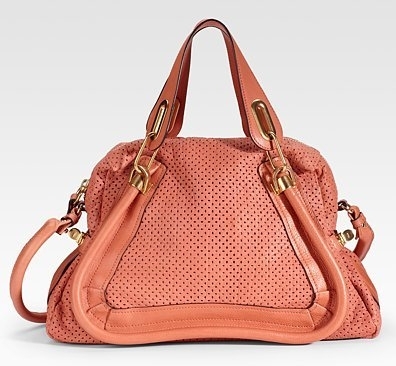 Price: $1,875.00 at saksfifthavenue.com
There are so many things about this Chloé bag that make it fun and funky — the pale coral color, the chunky gold-tone hardware, the unique shape, and of course, the tiny perforations! The bag also has double top handles and a shoulder strap for endless carrying possibilities. Pair with a dark brown linen shirt dress and peep-toes, or with dark-wash skinnies and a floral-print tunic… what a great bag for spring!
---
7

Chloé Heloise Leather Top Handle Bag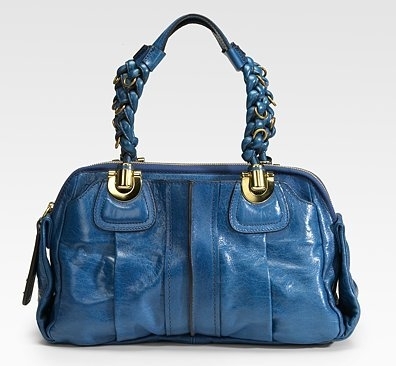 Price: $1,525.00 at saksfifthavenue.com
Ooh, I love this blue! It's so vibrant! I also adore the unique top handles, made of braided leather with brass rings woven through. The bag has the classic Chloé satchel shape, with protective metal feet on the bottom and two outside pockets (for cell phone and keys). If you don't fancy the blue, it's also available in a rich mocha color.
---
8

Chloé Striped Canvas Beach Tote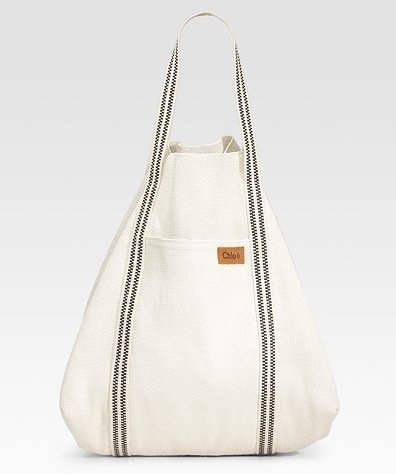 Price: $455.00 at saksfifthavenue.com
This may well be the most stylish carryall I've ever seen! It's made of sturdy cotton and is fully lined, and can even be hand-washed! It features a black zig-zag trim and a leather tag with the Chloé signature. I love the convenience of the front pocket and the roomy interior, perfect for a day of downtown shopping or a trip to the beach.
See, sweetie? Every single one of these bags is beautiful, and incredibly hip! I adore that Marcie bag, but they're all gorgeous! Which of these Chloé handbags do you like best, and why? Please do tell!
---
Popular
Related
Recent