With Baz Luhrmann's 'Great Gatsby' in theaters now, there's no better time to rock statement art deco clutches. Whether you're in the mood for classic neutrals or vibrant pops of color, there are gorgeously daring art deco clutches to suit your fancy. Here are 8 of my favorite finds, which can liven up any little black dress!
1

Art Deco Trim Clutch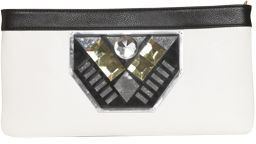 In terms of art deco clutches, you can't get more classic than this sleek black and white pick. Keep this clutch's standout front embellishment in check by wearing it with a black cocktail dress and silver heels. You'll be date-night ready in no time! Buy this notice-me piece now on ArdenB.com for $49.
2

Metallic Mixed Strud Clutch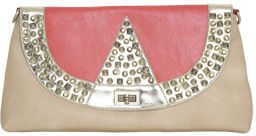 Hey, stud! Your wardrobe won't be able to get enough of this edgy embellished clutch –and how springy are those pink hues? I'd wear this piece with a black and grey frock and silver kitten heels for Friday dinner with the girls. Pick it up now on ArdebB.com for $59.
3

Inge Christopher Josephine B Elongated Clutch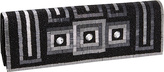 Complete with Swarovski crystal detailing, this deco-inspired clutch is timelessly elegant. Wear it on prom night with a black, white, or grey silk gown to look absolutely breath-taking! You can find this intricately-detailed clutch now on eBags.com for $140.12.
4

RACHEL Rachel Roy Handbag, Deco Frame Clutch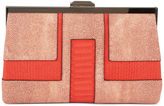 Add a pop of color to your neutral ensembles with this vibrant tangerine clutch. Pair it with a cream-colored frock and strappy sandals for a summer evening out. Buy this piece now on Macys.com for $43.99.
5

Coral Deco Bar Box Clutch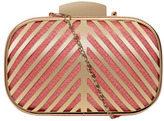 This flirty coral and gold clutch will add a finishing touch to your white sweetheart neckline dress. Or, wear it with a soft pink chiffon top and flared black skirt for a night on the town. Either way, it'll be an undeniably charming addition to your ensemble! Scoop this clutch up now on DorothyPerkins.com for a very budget-friendly $27.
6

Nina Majesta Art Deco Frame Clutch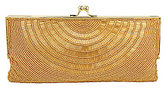 Gold is always in style (the proof is in this darling deco-inspired clutch!). This beaded piece would add a dose of shimmer and shine to any flared frock. Or, wear it with black skinny jeans and a silky white top. Buy it now on Dillards.com for $85.
7

Kimchi Blue Art Deco Jewel Crossbody Bag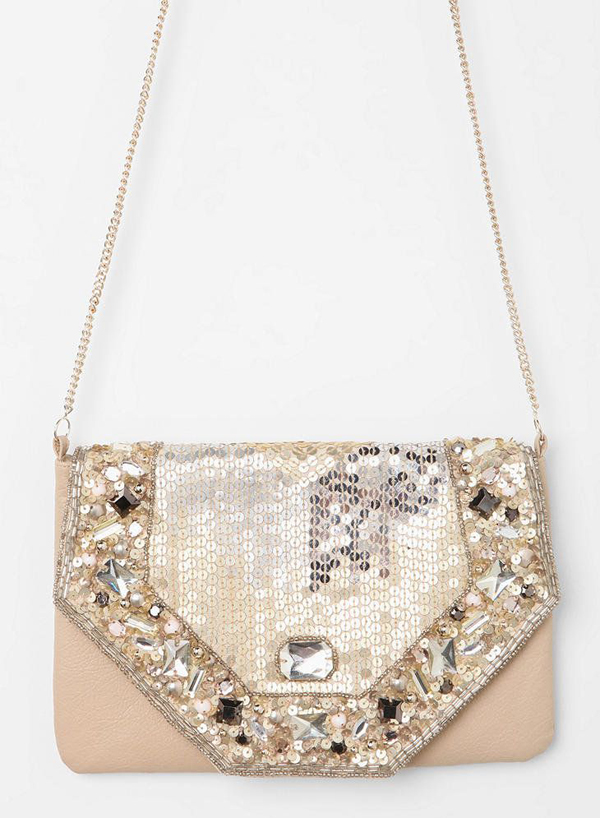 Daisy Buchanan may have seemingly endless funds at her disposal, but you don't need big bucks to look like a '20s socialite. This gorgeous beaded clutch will set you back a mere $16.99 and you can wear it with almost any cocktail dress! Pick it up now (before it's gone) on UrbanOutfitters.com. Now if only we could attend one of Gatsby's lavish parties.
8

Judith Leiber Charleston Striped Clutch Bag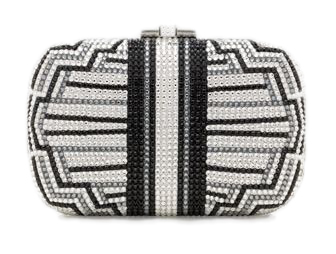 Last but not least is this completely swoon-worthy Judith Leiber clutch. I'm not going to reveal the price (which is in the thousands…gasp!), but I couldn't leave it out of this roundup. If I'm ever rich and famous, I'd wear it with a custom gown by Oscar de la Renta. Yes, I have this all planned out!
These are 8 of the trendiest deco-inspired clutches on the 'Net. Which ones do you think belong in 'The Great Gatsby'? Do you have any of your own favorite styles to add to the list? Let me know in the comments!