Purely by chance, I recently fell in love with several Kate Spade bags. The Kate Spade New York line is filled with the best details of every style preference: feminine palettes, bright hues, innovative designs, and timeless shapes. Whether you're looking for a big carryall or a statement bag, you'll easily be able to find something in a color you love. Take a look at my top favorite Kate Spade bags and see if you'd save up for this much style!
---
1

Pretty in Pink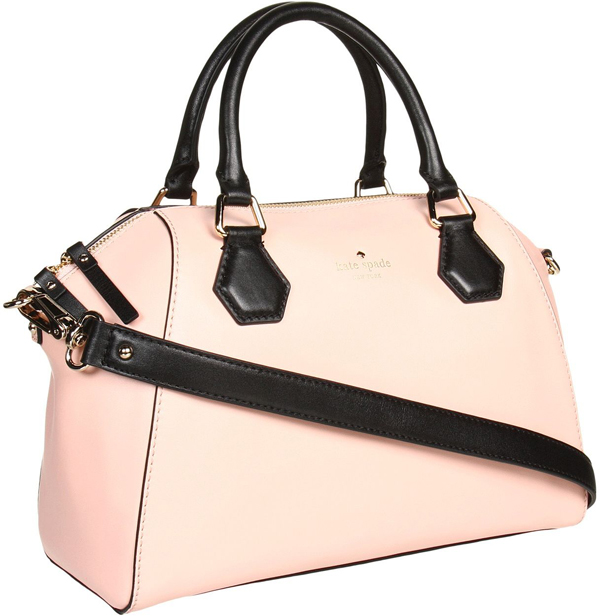 This is the Kate Spade New York Catherine Street Pippa bag and it is, far and away, one of my favorite Kate Spade bags ever. This bag is literally the only thing I want for my birthday in August (hint, hint, Heather). To me it's a little bit Chanel inspired, owing to that precious pink and the black detailing. It's roomy but not too bulky, plus you can choose between handles or a convenient shoulder strap. Zappos and Nordstrom both have it in different colors, but Zappos offers it for less than $300.
2

A Take on Basic Black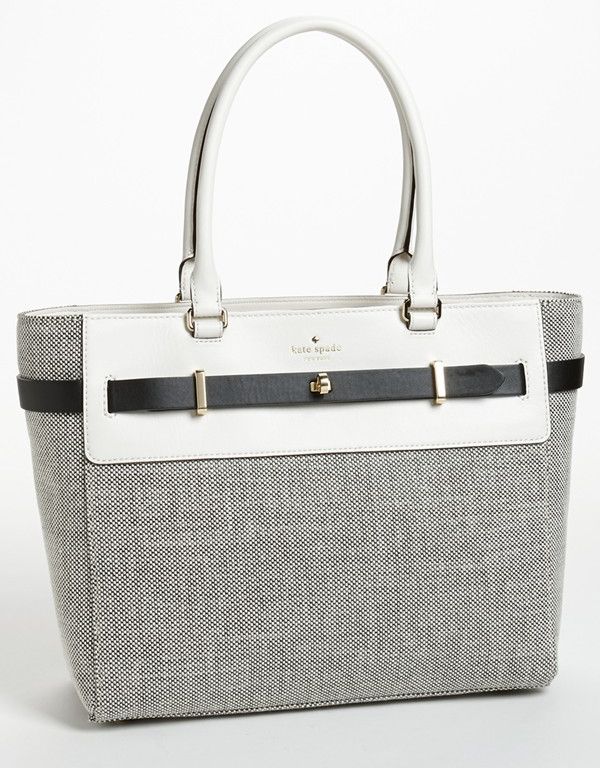 I spent so much of my life carrying around a plain black bag that these days, when I look for black, I like a little something extra. That's why I love the vintage appeal of this bag, which is the Bourbon Street Collins Tote. The black and white leather trim looks wonderfully mod, especially against the woven cotton. I can just imagine this bag with a too-cute little suit, although in my mind I'm always wearing white gloves. My Bree Van De Kamp obsession is getting slightly out of hand... Anyway, find this at Nordstrom for $458, or check out inspired looks from more affordable brands!
---
3

A Purse Full of Sunshine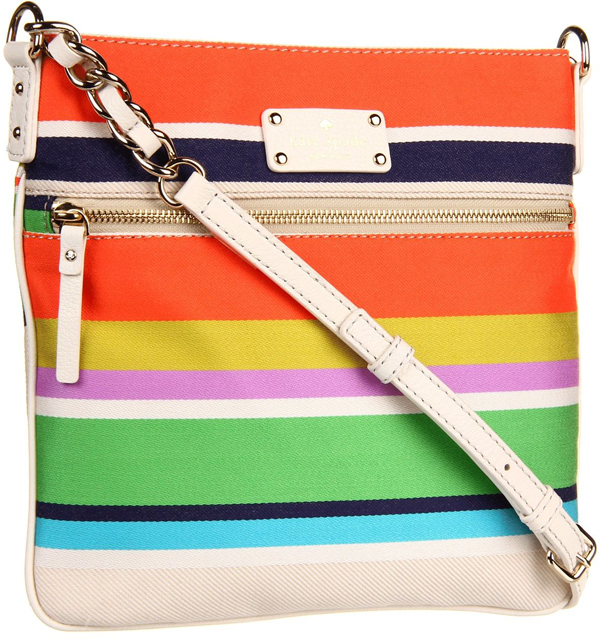 How gorgeous in this vibrant striped bag? The stripes make it a little nautical, while the blend of colors makes it ideal for spring and summer. It's lightweight but roomy, so you could take it to work or carry it along while you're out with your girlfriends. The New York Cobble Hill Stripe Ellen is a comparable steal at $178, the knockout Zappos price. Of course, you can find lookalikes for a fraction of the cost.
---
4

Flirting with Florals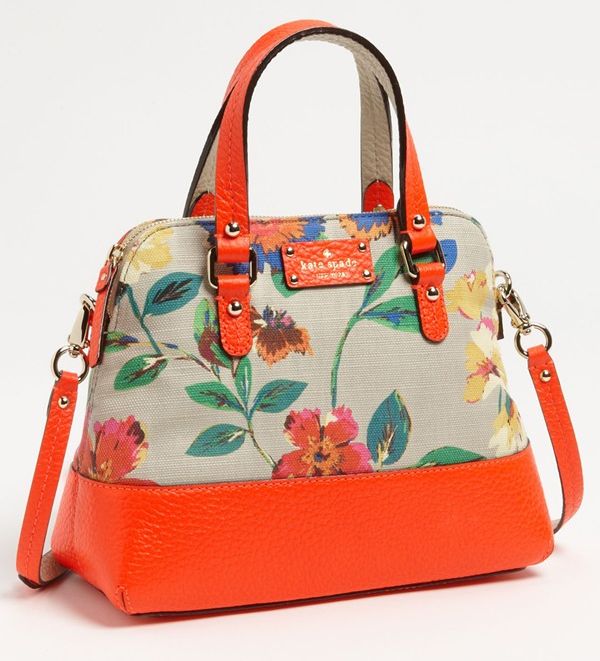 This season is all about bright, fun patterns, which is why I love the Grove Court Maise Satchel. The vibrant orange detailing is eye-catching without question, but with all those flowers on a more neutral background, this satchel is superbly versatile. Pair it with work suits, casual college attire, or a flirty date night outfit, no problem! Nordstrom has it for $318 but take a look at Zappos or find less costly copycats at your favorite stores.
---
5

The Mint-ocalypse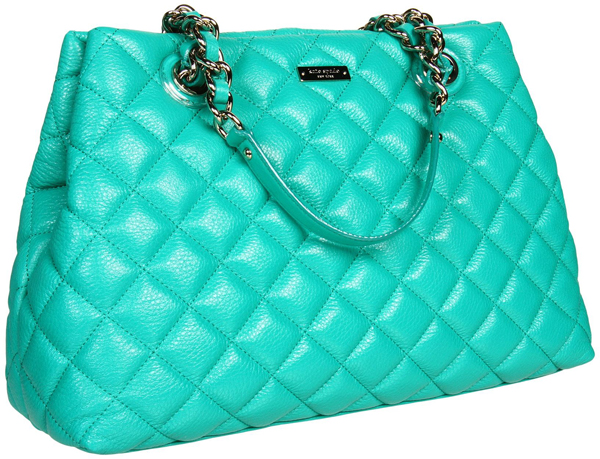 Mint is one of the top color choices of the spring and summer, and this brilliant hue is absolutely dazzling. The New York Gold Coast Maryanne itself is both simple and classic. The shape, the lines, the chic quilting – it's a great go-to bag. That color, though, keeps it from being blah and boring, and takes it right out of the stratosphere. This would go with so many outfits, from monochromes to prints, from skinnies to pencil skirts – you'd get lots of use out of it. Since it's $334.99 from Zappos, you'd probably be tempted to use it every day!
---
6

How Does Your Garden Grow?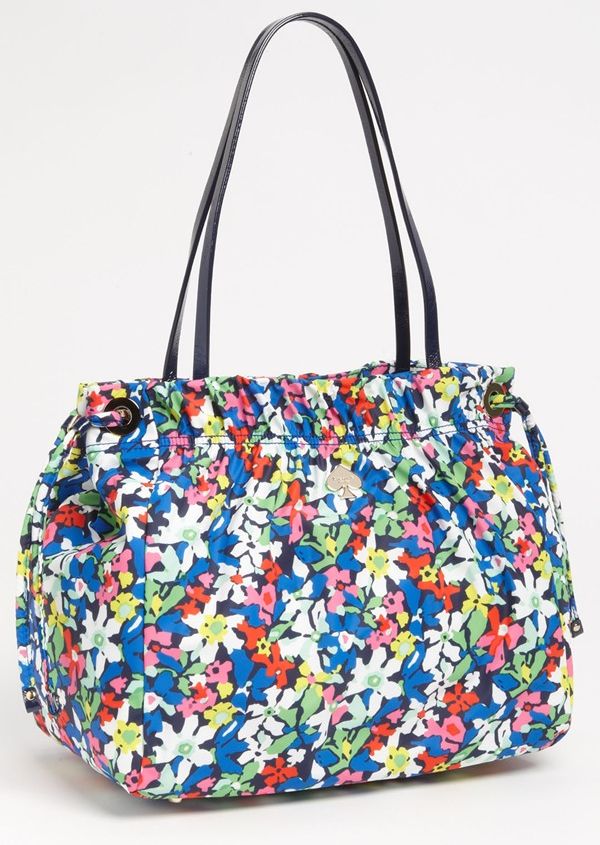 I know I already featured a floral bag, but the Carroll Gardens Lollie Tote is just so fun! This looks like an abstract work of art, it's so colorful and vivacious! While you might not carry it to work, it would make a wonderful weekend bag, especially with all that room and the comfy straps. It's actually on sale right now, so snatch it up for $178.80 from Nordstrom or look for similarly playful bags at your favorite retailers!
---
7

The Classic Bag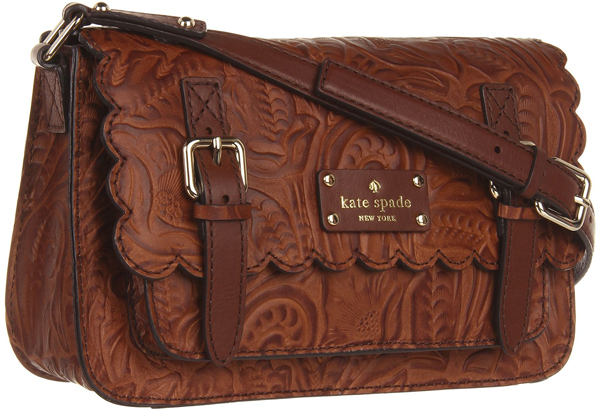 If you need a new go-to for the office and other work dos, you might not want to get anything too outlandish – but you still don't want to be boring, right? I don't even love brown bags but the New York Santa Rosalia Scout caught my eye immediately. I love all that intricate floral detailing! The embossing on this bag is exquisite, and with its crossbody fit, it's got a kicky, trendy vibe. If brown's not your thing either, it also comes in a gorgeous shade of flame orange. Get it for $348 at Zappos or check out inspired bags with similar embossed details and stylings.
I would be happy to carry any one of these Kate Spade bags – but, of course, I have a definite preference. From timeless silhouettes to vibrant colors, there are so many to choose from! I didn't include any clutches, but trust that you'll even find something for your favorite LBD in the Kate Spade New York collection. What's your take on designer bags – do you always go designer, save up for special pieces, or are you happier with more affordable inspirations?
---
Comments
Popular
Related
Recent