One of my favorite indie designers is Deadworry, with their incredibly detailed illustrations they print on the softest tees and most rugged bags. I especially love their totes and messenger bags… they're so cool! I've been needing a new bag for school, so I've been trying to choose just one Deadworry bag… help! Here are 7 cute bags by Deadworry… I can't decide which I like best!
---
1

Deadworry Jellyfish Shoulder Bag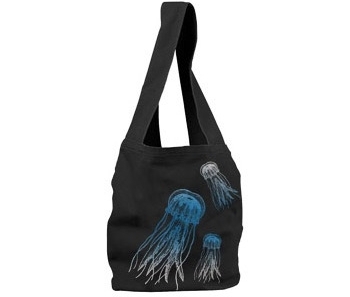 Price: $30.00 at shanalogic.com
This bag is ideal for using as a school or work bag, generous enough to hold school books, client folders, even vinyl records (remember those?). It measures 11 by 16 inches, and is made of sturdy 100% cotton. I love the three beautiful jellyfish on the front — they're so graceful!
---
2

Deadworry Octo-Owl Messenger Bag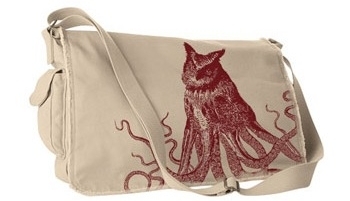 Price: $44.00 at shanalogic.com
Hmm… is it an owl? Or an octopus? Actually, I suppose it's both, right? For the creature on this messenger bag has the wide head of a clever old owl and the body and tentacles of a slinky octopus. He's sure to get compliments wherever you tote him, as you carry your school books or other important things around.
3

Deadworry Octopus Messenger Bag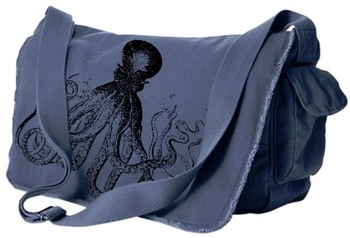 Price: $44.00 at shanalogic.com
Perhaps the Octo-Owl was a little much, and you prefer a messenger bag with a little more reality? Then this is the bag for you, with a single majestic octopus on the front, with winding, curling tentacles printed on a blue bag with lots of pockets for all of your necessities.
---
4

Deadworry Sir Fancy Rabbit Messenger Bag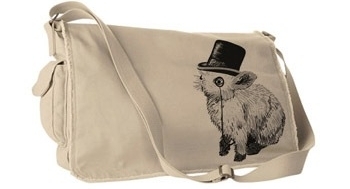 Price: $44.00 at shanalogic.com
Well, hello there Mister Fancy Bunny! You're all dressed up, so now let's take you somewhere! You can carry my books and binders and things around, while gathering compliments and sideways glances… how cute! I think this may be the bag for me…
---
5

Deadworry Owl Field Bag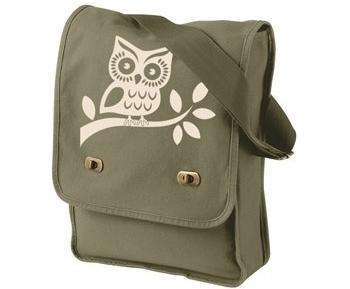 Price: $30.00 at shanalogic.com
This little owl is less realistic, more adorable, perched on his leafy branch, ready to dispense sage advice while carrying all of your necessities. It's roomier than it looks, measuring 16 inches tall by 12 inches across… wear it cross body or sling it over one shoulder… hmm… maybe THIS is the bag for me, too!
---
6

Deadworry Extra Large Bunny Tote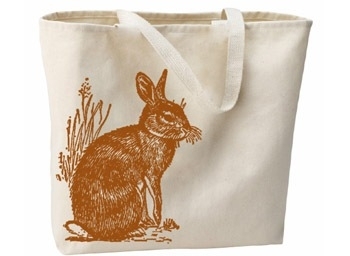 Price: $0.00 at shanalogic.com
What a sweet little bunny! He's peeking out from a little patch of tall grass, printed on an oversized cotton twill tote. He's a burnt orange color, the tote is creamy ecru. The bag itself is very sturdy, and roomy enough to carry everything you'll need for school or work… or shopping!
---
7

Deadworry Raven Messenger Bag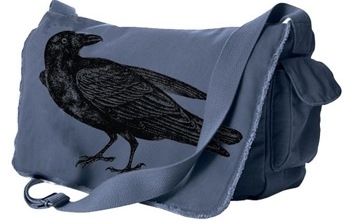 Price: $44.00 at shanalogic.com
This bag is great for boys of for girls, with a proud black raven on the front of a deep blue messenger bag. He looks clever, not frightening, but he may keep away anyone who's after that Snickers bar deep in the recesses of your bag, there by your pencil case.
Well, at least I've narrowed my list of favorites down to two… which to buy, the owl or the top-hat bunny? Or maybe both… hmm… which of these 7 bags do you like best, or is there another Deadworry design you like more? Please share!
---
Popular
Related
Recent