The right bag can really set the tone for an outfit. At night, an evening bag not only accents an outfit but can also make or break it. Add a bit of character to your look with a statement bag or clutch. From high shine metals to sequinned embellishments, take a look at a few dazzling evening bags below.
1

Anya Hindmarch Marano Glitter-Finish Leather Clutch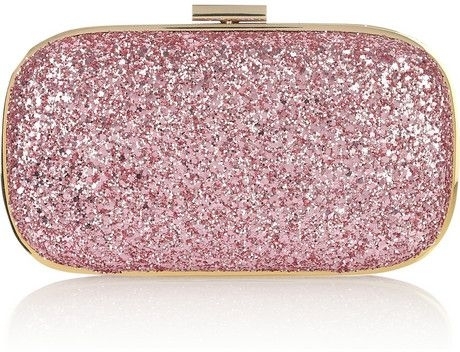 Price: $550.00 at net-a-porter.com
This pink glitter-sprayed clutch is the perfect party bag. It has a gold metal frame and push clasp fastening. It also has an interior pouch pocket and is lined in suede. It's sized to carry the essentials.
2

Asos Pyramid Metal Tip Clutch Bag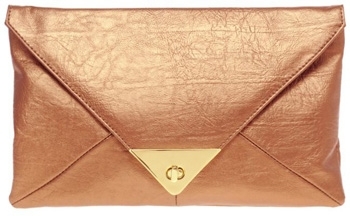 Price: $27.70 at asos.com
This envelope clutch bag would make a sleek addition to any outfit. It has a bronze textured finish and features a metal capped tip with twist lock closure. This clutch would look great paired with a long-sleeved shift dress and nude coloured heels. It's the perfect way to add a metallic touch to an outfit.
3

Alexander McQueen Engraved Leaf and Thorn Box Clutch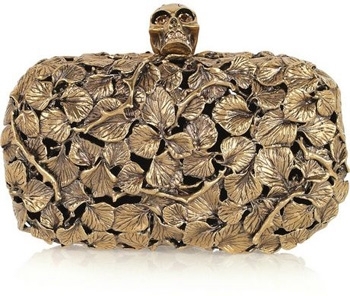 Price: $3295.00 at net-a-porter.com
This Alexander McQueen box clutch is nothing short of dazzling. It is made from engraved gold-tone metal and has a skull clasp fastening. The skull clasp fastening features caramel Swarovski crystal embellishments. Dazzling evening bags such as this one would work well in a black tie setting.
4

Modcloth Shell We? Shoulder Bag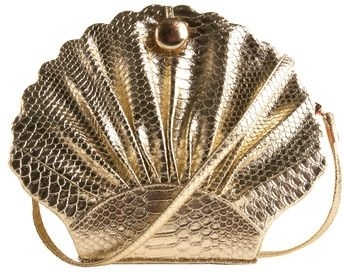 Price: $74.99 at modcloth.com
Dazzling evening bags can also have an element of fun about them. This shell-shaped bag has a scalloped edge, bunched shell panels, and a snap closure at the top. It is lined in pink fabric and contains two interior pockets. Sling this bag across your body for a casual party look.
5

Halston Heritage Samantha Chain Mail Bucket Bag

Price: $650.00 at net-a-porter.com
This silver chain mail bucket bag is a guaranteed statement maker. It has two shoulder straps, rose gold trimming at the top, and a designer stamped silver plaque at the front. It has a drawstring-style opening and is lined in black twill. The size of this bag is also ideal for when a small clutch just won't suffice.
6

Sondra Roberts Sequin Box Clutch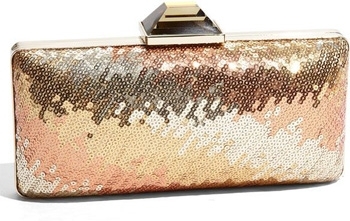 Price: $98.00 at shop.nordstrom.com
Sequins are a popular design element for dazzling evening bags. This slimline clutch is covered in shimmering sequins. It has a gold-tone frame and pyramid gem at the clasp closure. It also comes with a chain strap so can be worn over the shoulder.
7

Lanvin Minaudiere Metal Oval Clutch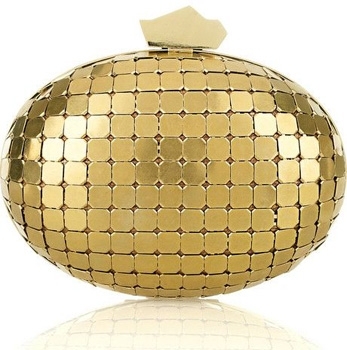 Price: $2825.00 at net-a-porter.com
This small gold oval clutch is a delicate yet dramatic way to accessorise an evening outfit. It features a gold metal exterior, push lock clasp fastening, and detachable multi-chain strap. It is also lined in black satin. I can imagine this being worn with a decadent ball gown.
8

Modcloth Friday Night Fever Shoulder Bag

Price: $33.99 at modcloth.com
This shoulder bag is perfect for bringing with you next time you're hitting the dance floor. It features a sequined outer, bow embellishment at the front, and magnetic clasp fastening at the top. Simply sling this bag over the top of your favourite dancing outfit.
9

Santi Rhinestone Frame Clutch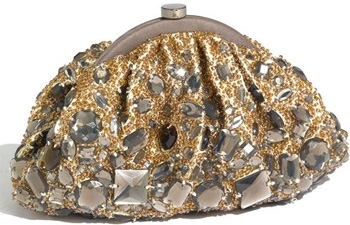 Price: $228.00 at shop.nordstrom.com
This multi beaded bag looks like the contents of a treasure chest. It is adorned in faceted gems and glossy beads. This clutch has a retro-inspired frame design and comes with a chain strap. Dazzling evening bags such as this are perfect for adding some interest to an outfit.
No matter what your budget, there's a statement-making evening bag for you. From engraved metal clutches to shimmer shoulder bags, the look is distinctively disco ready. Which of these dazzling evening bags are your favourites?