I'm a bit of a bag collector, but for some strange reason all of my bags are fairly large. Ah yes, it's because I tend to carry around half my possessions, like most women! So I've decided it's time I found myself a bag that's just big enough to fit the essentials like wallet, keys and phone. Here are some really cute bags …
---
1

Animal Print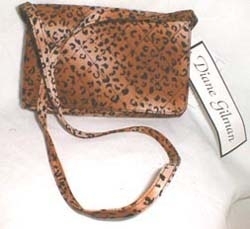 Price: $7.99 at cgi.ebay.com
As regular readers will know, I adore my leopardprint accessories. So this cute little clutch bag is right up my street. It has a handy shoulder strap, and is made of silk. A bold bag like this would match a little black dress perfectly.
---
2

Flower Bag

Price: $19.99 at cgi.ebay.com
This little bag is so pretty, and in my favourite colour purple as well! It's made of satin, is covered with rosettes, and features a really unusual strap in the centre that would slip over your wrist. The bag has a vintage look about it, so if you can't afford the genuine article it would make a great alternative.
3

Peacock Bag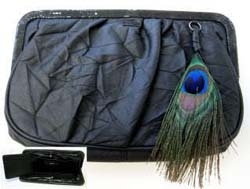 Price: $23.99 at cgi.ebay.com
This looks like a pretty plain bag, but it has one stunning detail that caught my attention. And as we know, the attention is in the detail! The bag is adorned with a peacock feather, which has to be one of nature's most beautiful designs.
---
4

Ed Hardy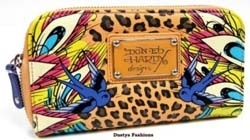 Price: $33.95 at cgi.ebay.com
If you're a fan of Ed Hardy designs, you'll love this little clutch. It kind of reminds me of a pencil case, but as clutch bags go it's certainly different. The design is really quirky, with gorgeous blue swallows featuring (so what if swallows aren't blue?).
---
5

Purple Clutch

Price: $12.99 at cgi.ebay.com
Here's another vintage-style bag. This one has a real Art Deco look about it, with its pleated front, satin-like material and rhinestone trim. It's something you can imagine a screen siren like Jean Harlow carrying. There's also a chain if you want to sling it over your shoulder, and several other colour choices if you don't care for purple.
---
6

Marilyn Manson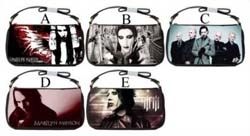 Price: $17.99 at cgi.ebay.com
Yup, the artist formerly known as Brian Warner is now appearing on a handbag near you. This isn't quite as cute as the others, but is the ideal bag for rock chicks, who need somewhere to stash their wallet and phone just as much as any other girl does. There are five designs to choose from.
---
7

Rhinestone Lips

Price: $12.99 at cgi.ebay.com
If you like to make an impact, you'll certainly achieve it with this little clutch. The pleated fabric is adorned with a pair of sparkling rhinestone lips. The colours range from bold pink to subtle silver, so you'll be sure to find the perfect shade to match yor outfit.
---
8

Plaid Cross-Body Purse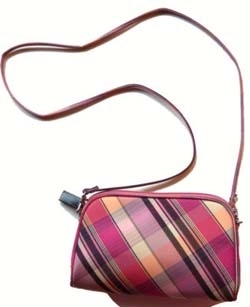 Price: $12.89 at cgi.ebay.com
I'm not a great fan of plaid, but I love the combination of colours here. Plus sinceit's so small it's still quite subtle. The good thing about a cross-body bag is that it provides greater security – even if we're not carrying much, we don't want to lose it!
Are you, like me, incapable of going out without carrying your life in a bag? Do you have an enormous bag collection? Or do you just not 'get' the bag thing?
---
Popular
Related
Recent