As I think I've said before, I'm a … well, the nice way to put it is to say that I'm a purse connoisseur. I can't get enough of handbags, purses, shoulder bags, messenger bags, clutches – you name it, I've probably got at least one of them. I don't know why, I just like purses. I like having somewhere pretty to put my stuff. But although I have lots of purses, I don't really have anything suitable for evenings, when you don't want to be carrying around a huge bag, you know? So, to hopefully fix that, here are some great bags for a night on the town that I hope you'll like too!
---
1

Bourne Satin Clutch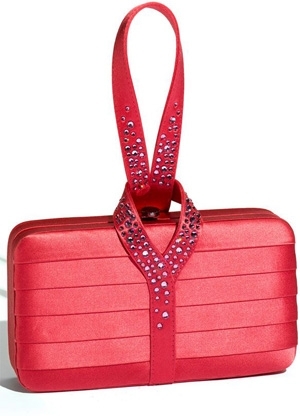 Price: $170.00 at shop.nordstrom.com
This is a great bag for a night on the town for several reasons. In fact, I can't decide what I love most about it. I think the shape and styling is great – you don't see straps like that very often. I love that it's so boxy as well, but thanks to the color and the crystals, the lines of it aren't too harsh. Boxy purses are cute for a daytime look, but when you have something geometric for evening wear, you have to make sure it's evenly balanced.
2

Embellished Satin Clutch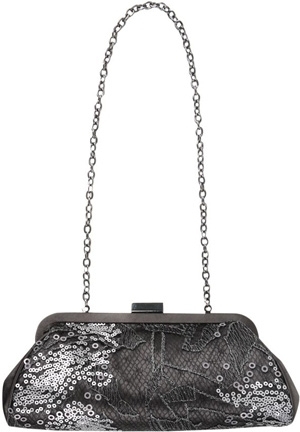 Price: $22.80 at forever21.com
For an evening out, you really can't go wrong with something satin, and this one is really sweet. It's just big enough to carry what you need to go out and, better still, it almost looks like wearable jewelry. Whatever you're wearing, a bag like this is going to add to your outfit, rather than take away from it, but it's not going to overshadow it either.
---
3

Tasha "Jewel" Box Clutch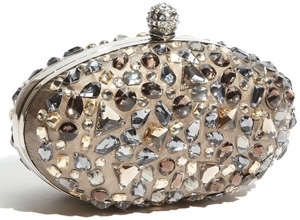 Price: $120.00 at shop.nordstrom.com
This bag is so original. I mean, it hardly even looks like a bag! To me, it looks almost like a seashell mosaic or something – it's like a shell decorated with gems. I love it! The silhouette is totally vintage, which is very popular right now, and it, too, looks more like wearable art than a mere bag.
---
4

Glitter with Glamour Clutch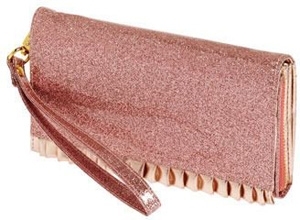 Price: $12.99 at modcloth.com
I think this is a great bag for a night on the town mainly because of it's simplicity. It's quite vintage as well, from the silhouette to that scrumptious color, which Mod Cloth refers to as Thulian pink. I love the gold accents against it, that charming little ruffle at the bottom, and pretty much everything else this clutch has to offer.
---
5

Aldo Crompond Evening Bag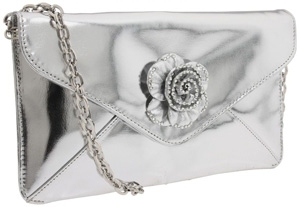 Price: $32.00 at zappos.com
Something silver is always a good bet for an evening out, and this choice would be perfect. The rose on front, along with the chain strap, keeps it from looking too boring. You know, even though you never want your evening bag to overshadow your outfit, you still don't want to walk around with something boring.
---
6

Nordstrom Pleated Silk Frame Clutch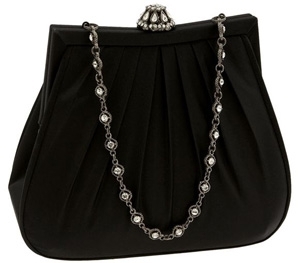 Price: $88.00 at shop.nordstrom.com
Silk is also a great choice for evening attire, and this bag says it all. It's simple but it's not simple. The clasp and the drop chain keep it from being boring, and turn it into something elegant and refined instead. I absolutely adore this bag. It reminds me of something Audrey Hepburn might have carried around, especially during her Holly Golightly days.
---
7

Halston Heritage Susan Evening Clutch Bag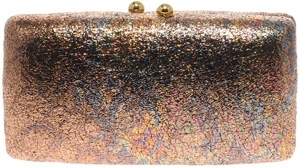 Price: $282.51 at us.asos.com
I'll be honest, I included this because it intrigues me. Those colors are just … wow. It's so iridescent, you can't even quite tell what it's going to be. It's evocative of Studio 54 days, and while it's a little pricy, you have to admit one thing. If you're looking to make a statement in the nighttime scene, you can't do better than that vibe.
---
8

Friday Night Fever Shoulder Bag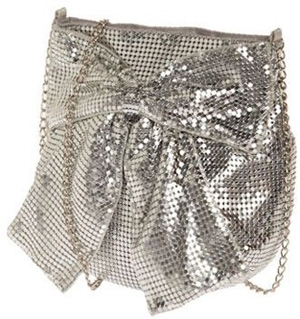 Price: $33.99 at modcloth.com
I think this is a great bag for a night on the town because it looks a little like a disco ball! I can't help it, I love silver, shiny things. They've been known to distract me for hours on end. While this bag is a little flashy, I couldn't help but include it, primarily because I love that big bow!
---
9

Betsey Johnson Evening Charm Clubbin around Bag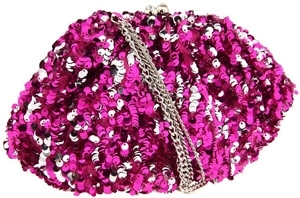 Price: $88.00 at zappos.com
Betsey Johnson really knows where it's at. And yeah, okay, I admit that I like it largely because it's pink. C'mon, though, how cute is this? And look a the name – it practically begs you to carry it to the club! Personally, I'd probably end up taking this around all the time, even if it can't hold that much.
Clearly, I found a lot of really pretty bags for a night on the town – and I think it's time to start compiling my birthday wish list! Of course, you may like something else entirely to take out in the evening. Do you like to slip some money and ID in your pocket, take a clutch, or go out with a big bag?
---
Popular
Related
Recent