As I've mentioned, probably a dozen times before, I adore bags. With summer coming up, I'm especially interested in finding a new beach bag. I mean, when I go to the pool or to the ocean, I take everything with me – and if I can fit it, I'll put it all in my bag. Drinks, books, sunglasses, lots of sunblock, extra clothing, and who knows what else – I'll cram it all in if I'm able. I'd love to find something that has tons of room but is still easy to carry, though – hence my mad search for some big bold beach bags!
---
1

Dakine Nina Beach Bag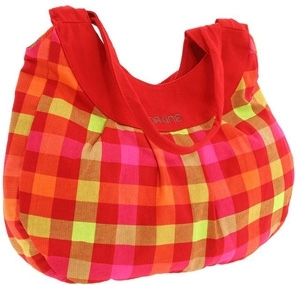 Price: $24.00 at zappos.com
Here is a seriously big bold beach bag – emphasis on the "bold." I'm not normally into this kind of color combination – but! We're talking about beach bags here, and somehow it's okay to be seen with bright, acidic colors like this on the beach. This bag makes me think of sunshine, like you could carry this out with you, and will it to stay sunny all day. At 18" wide, 12" high, and 4" deep, it should be plenty big for all your stuff.
2

Juicy Couture "Military – Power" Canvas Tote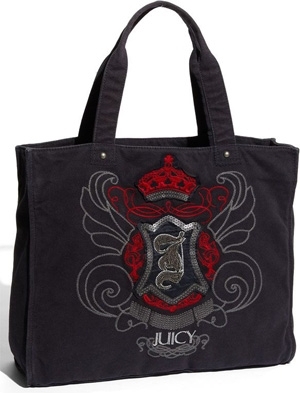 Price: $63.90 at shop.nordstrom.com
If, however, you want something more bold than bright, you can always turn to Juicy Couture. This bag is pretty bad. It's what you carry to the beach if you want to look cool – but it's still functional, which is even cooler. It's got sequins and everything – plus the measurements (15"W x 13"H x 5"D) are awesome.
---
3

Volcom Hardbody Beach Tote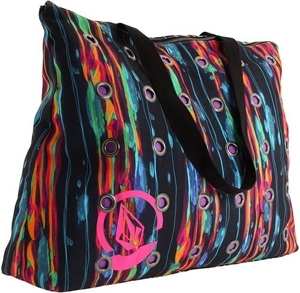 Price: $35.20 at zappos.com
In addition to being a big bold beach bag, this thing is huge. Look at it! Even in the picture, it's ginormous! That's what I'm talking about! I love the colors, but it's true, I love the size even more. At 21"W x 16"H x 6 ½"D, this thing is just mammoth. I could carry my whole life in there!
---
4

Sequined Basket Weave Beach Bag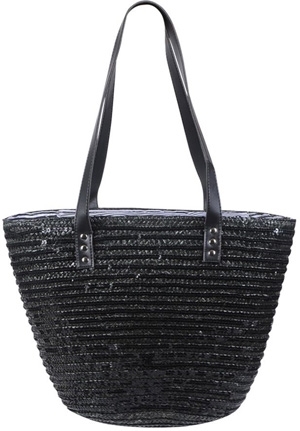 Price: $14.80 at forever21.com
Still, the fact is that some ladies still prefer to be cool and chic and stylish. For those ladies, I give you this. The standard basket weave is taken up a notch with the use of sequins, so you can take some glitz to the beach with you. Granted, it's not as big as a lot of the other bags, but at 21 ½"H x 15"W x 5"D, it's really not bad at all.
---
5

O'Neill Patience Beach Bag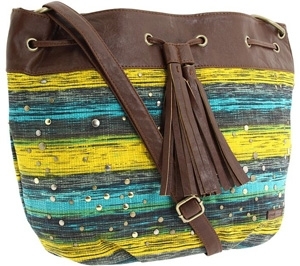 Price: $39.50 at zappos.com
I don't know what it is I like about this bag, but it immediately jumped out at me. The fringe is cool, and the color palette is very summer friendly and gorgeous. Plus it has nail heads throughout the bag! How hardcore! The dimensions are pretty great too: 15 ½"W x 13"H x 4"D. You won't need a lot of "patience" with this, because it will easily haul all your stuff.
---
6

Modern Relic Tote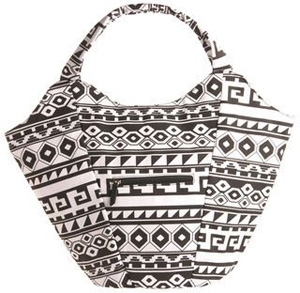 Price: $47.99 at modcloth.com
Sometimes, though, you just want something a little simpler. Remember, not every big bold beach bag has to be flashy and ostentatious. I actually love this one for its design. Even though it's black and white, all those geometric shapes really work together; this bag is like op-art or something, and there's something really cool about that. Plus, it's plenty big – 16"H x 24 ½"W x 6 ½"D.
---
7

Oakley New Beach Bag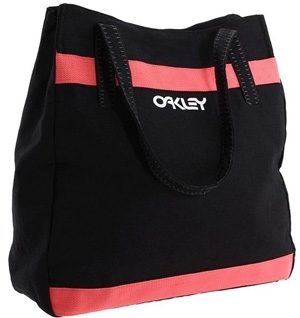 Price: $41.00 at zappos.com
I just love the color on this bag. I love that coral shade seen up next to black. Not to mention, the depth on this beach bag is seriously enviable. I honestly don't know what you couldn't carry in there. It's dimensions are 15"H x 15 ½"W x 5"D, and that's nothing to sneeze at, you know?
---
8

See by Chloe See by Candy Bag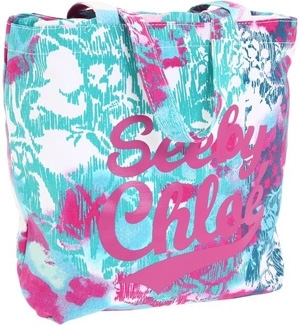 Price: $95.00 at zappos.com
I really just love this bag because of those colors. I mean, this bag just looks so happy and summer friendly! Actually, I think my Barbies used to have a beach bag like this – and I know they had about seven different bikinis in the same color. In addition to being bright and happy, it's also quite big – 15"H x 15"W x 5"D.
I found a lot of really big bold big bags, and I'm incredibly happy with my finds! All of these would really suit my needs – but I can't get all of them, I know that. Still, it's tempting! What kind of bag do you think is ideal for going to the beach?
---
Comments
Popular
Related
Recent