Cute Wallets may not seem like such a big deal, since they're hidden in your purse, but honestly, having a pretty wallet can really bring your look together. Who wants to be pulling out some cash or a credit card, and reveal that they have some grotty wallet falling apart at the seams? True, in order to be functional, your wallet simply needs to be able to hold your essential items, but cute wallets mix function with fashion. There's nothing wrong with shopping around for cute wallets to change your old one with, and I've found some gorgeous possibilities!
---
1

Petunia Pickle Bottom Wanderlust Wallet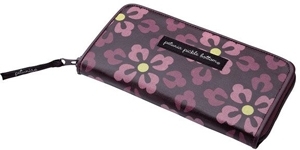 Price: $62.00 at shop.nordstrom.com
I love this cute wallet for its color scheme, which is called "Passage to Persia." I also confess that "Petunia Pickle Bottom" unfailingly reminds me of a character you might run across at Hogwarts or something. As for the wallet itself, it's incredibly chic, with a zipper pocket for your change, an ID window, plenty of card slots, and a pocket for all your cash.
---
2

Modalu Small Studded Wallet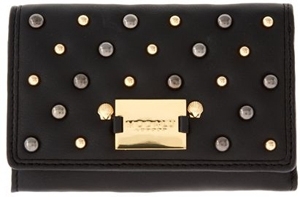 Price: $44.82 at us.asos.com.
This wallet is totally harcore. The metal studs, in both gold and silver, keep it from being too plain and boring. It has plenty of pockets and compartments for all your essentials, and it comes in a variety of colors. The blue option makes it look like a starry sky!
---
3

Planetary Depths Wallet in Crystalline

Price: $29.99 at modcloth.com
Mod Cloth has tons of cute wallets, and this is by far one of my favorites. That design is simply gorgeous. The quartz is so lifelike, it looks almost real. The wallet is a flat fold design, which makes it easy to store, and the inside is made of leather. It has plenty of room, as well, so it makes a great organizer.
---
4

Lodis Celestial Ballet Clutch Wallet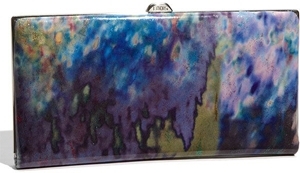 Price: $145.00 at shop.nordstrom.com
This wallet is like a work of art. The iridescent watercolor design comes in several color combinations – berry, marine, and purple. They're all so gorgeous, I can't decide which one I like best! Although it's a bit pricy, it's also durable, so you're making an investment on a wallet that's going to last a long time.
---
5

Aspiring Artist Wallet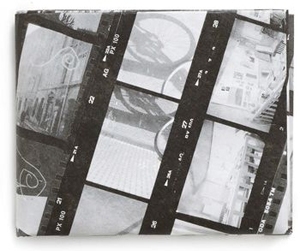 Price: $14.99 at modcloth.com
This cute wallet is a must-have for artists and photographers. I love film depictions, so this really appeals to me. The design looks like it comes straight from a 35mm camera, so the artistic appeal also has a retro look. It's also made from recycled materials, so for $15, you're helping Mother Earth and showing your artistic flair!
---
6

Nica Mimi Long Printed Organiser Wallet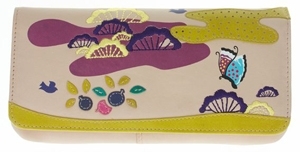 Price: $48.27 at us.asos.com
I just love the design on this wallet. It's so bright and sunny, a perfect summertime accessory. It has tons of applique and stitching, for a more three dimensional look, and room for money, coins, notes, and credit cards. This would be perfect with a darker, more neutral purse – it would wait inside like a surprise!
---
7

Game of Hearts Wallet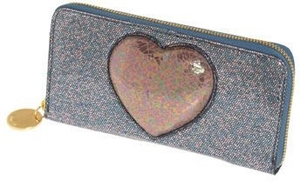 Price: $19.99 at modcloth.com
This cute wallet by Deux Lux can double as a clutch, as well. It has a subtle honeycombed pattern with lots of pink and sapphire material that looks quite a bit like quartz. The thing that really makes it pop is the puffy 3D heart on the front!
---
8

Kate Spade New York South Street Lacey Accordion Wallet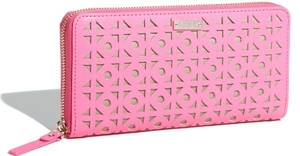 Price: $149.90 at shop.nordstrom.com
This adorable Kate Spade wallet comes in pink, gold, or green, and no matter what color you choose, it's sure to pop. Made of leather, it features geometric cutouts all throughout the sumptuous leather exterior. Inside, the interior is made up of metallic dots for even more dazzle!
---
9

Nights out on the Funky Town Wallet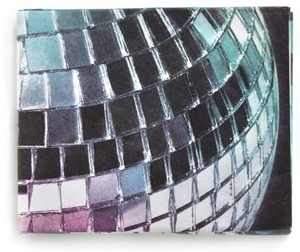 Price: $14.99 at modcloth.com
Finally, for all of you disco loving divas out there, this cute wallet is just right for you! It's made of recycled materials as well, so in addition to being totally groovy in terms of style, it's also great if you're eco-conscious. It's got tons of room, yet it's made so you can wear it in your hip pocket as well as your bag.
Cute wallets really do make a great accessory to add to your purse. I covet wallets as much as I do bags, so my ideal is to have cute wallets to go with every one of my favorite purses. I admit, that could be a little bit of overkill. But, c'mon, look at all these cute wallets! I can't be blamed for my weaknesses! What's the one accessory that you always have to have in your purse?
More
Comments
Popular
Recent