There are so many handbag designs to choose from these days; sometimes the thought of it is simply overwhelming! One of my favourite handbag design features is the twist-lock closure. It's quite a traditional-looking feature and gives a handbag a polished finish. The following are just a few trendy twist-lock handbags that I've been eyeing off lately.
1

Topshop Black Lady Flap Hold All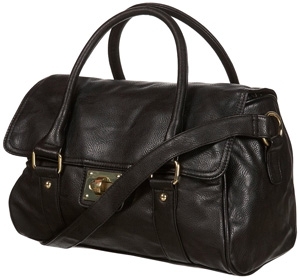 Price: $70.00 at us.topshop.com
This black holdall would make a great everyday bag. It features a cross body strap and twin top handles. This leather-look bag also has a zip and twist-lock closure. The gold-look hardware accents the black material quite well. It's a simple, understated, yet incredibly stylish bag.
2

Forever21 Classic Small Leatherette Bag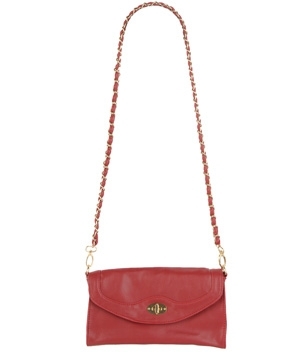 Price: $19.80 at forever21.com
This chic bag is perfect for a night out on the town. It will hold all the essentials and can be used as a shoulder bag or as a clutch. The chain detail is quite a classic design element. This leatherette bag comes in a lush red colour and features a full zip closure as well as a twist-lock.
3

Marc by Marc Jacobs Perfect Purse Ostrich Effect PVC Bag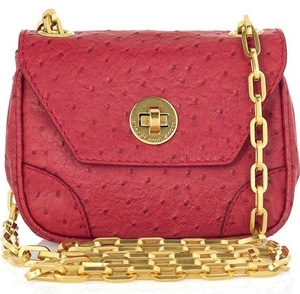 Price: $225.00 at net-a-porter.com
This little PVC bag just proves that good things come in small packages. The ostrich effect creates quite an interesting texture. It features gold hardware including a twist-lock closure and chain-link strap. It is lined in blue and pink twill and will fit essentials like cards, phone, and money.
4

Modcloth Chic Street Bag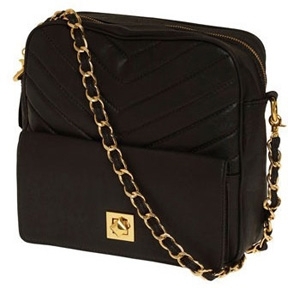 Price: $67.99 at modcloth.com
The chevron shaped quilting adds an interesting twist to an otherwise ordinary black bag. This bag has a zipper closer, interior zipper and open pockets, and an outside pocket with clasp closure. The bag is of medium size and would suit a lot of day to day activities. The gold accents complete the chic and stylish design.
5

Lanvin Happy Leather Shoulder Bag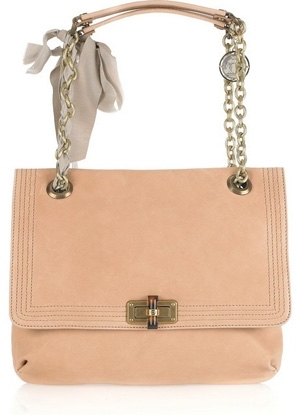 Price: $1690.00 at net-a-porter.com
If I had a limitless bank account, this bag would be one of my first purchases! The rose-beige leather gives the bag an overall delicate appearance. This is accentuated by the interwoven grosgrain and chain-detailed handles. This bag features two internal compartments as well an internal zip pocket, allowing for easy organisation. This bag would look great paired with a sweet sundress or light denim.
6

Modcloth Fierce Financier Clutch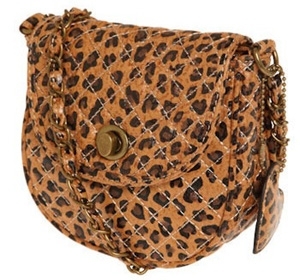 Price: $37.99 at modcloth.com
This quilted handbag features one of the boldest leopard prints I've seen so far! What's so handy about this bag is that the strap can be worn over the shoulder or converted into a wrist strap. This bag also features an interior zipper pocket. This bag is quite loud, so be sure to keep the rest of your outfit fuss-free.
7

Red or Dead Twist Lock Vintage Grab Bag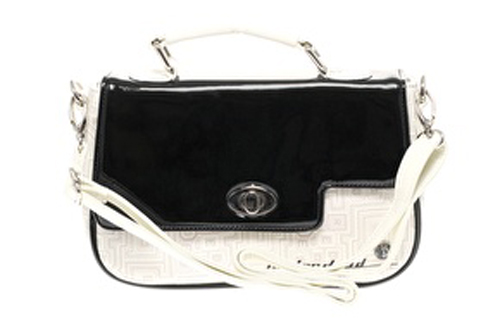 Price: $39.45 at us.asos.comThis monochrome two-tone hand bag is ideal for those looking for some retro inspiration. The bag has a black patent flap and white textured body. It also comes with a shoulder strap, grab handle, and zipped interior pocket. Wear it with loud block colours to really work the retro aesthetic.
These trendy twist-lock handbags are suitable for a range of occasions. Do you own any twist-lock handbags? Which of the above do you prefer?