At first sight, it may not seem as though the phrase 'stylish laptop bags' even makes sense. After all, laptop bags are bulky and un-sexy, right? Wrong. Stylish laptop bags are everywhere these days, and it is absolutely possible to find one or two that will make your outfit look better!
---
1

LeSportsac Laptop Bag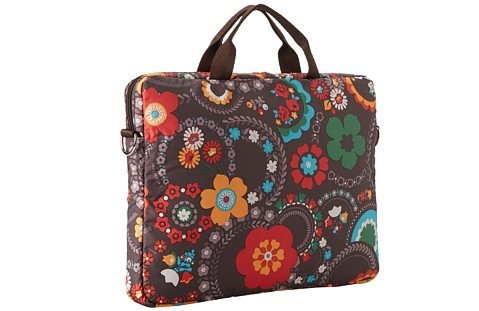 LeSportsac has a few stylish laptop bags. However, I especially love this one because of the seventies feel it has. In many ways, it looks more like you are about to fold out a gym mat than whip out your laptop. The psychedelic range from LeSportsac is seemingly endless, but this one gets my vote for blending tired old black with funky flowers.
2

ASOS Laptop and Document Satchel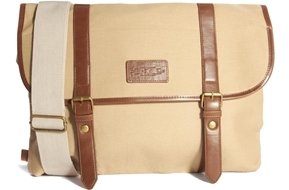 Back in the days when laptops didn't exist and we had to carry paper from place to place instead, satchels were all the rage. Whether you are being a traditionalist and sticking to documents, or you want to carry a laptop, this is the right satchel for you. I am pretty sure this one is intended for guys. I don't see any reason why us girls shouldn't enjoy it, though.
---
3

ECCO Business Laptop Bag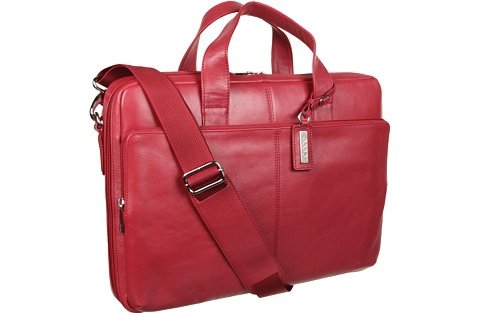 You really will look as though you mean business with this one! I am a huge fan of anything red, especially when it comes to bags. It is a great way to make yourself stand out a little. This beauty comes with a handle AND a cross over strap, so you no longer have to worry about lugging your laptop around uncomfortably. Unlike a lot of bags, it also features extra room for your charger too. Major bonus!
---
4

Pull&Bear Laptop Case in White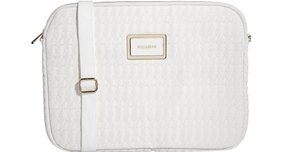 I really think that all laptop cases would look like this if they had been in existence during the 1980s. There is a bit of a 'Pretty Woman' feel about this bag from Pull&Bear. Thanks to the quilted matte look finish, it offers extra protection to your precious laptop. The gold accessories are a little bit bling too, which I love.
---
5

Vera Bradley Neoprene Laptop Case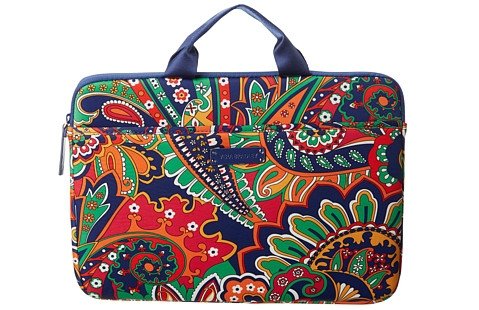 Okay, this is going to seem a little odd, but I once had a neoprene splint so I can absolutely vouch for it being a super durable material. I love this Vera Bradley bag, as it is incredibly psychedelic. It packs plenty of color, and I can almost guarantee you will hardly see anything like it at your office or in your class. I also reckon that front pocket will come in very handy for documents.
---
6

ASOS Leopard and Metallic Laptop Case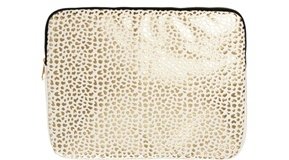 Trust ASOS to combine animal prints with a metallic sheen. Honestly, I don't see any reason why you shouldn't glamorise your laptop. This really is one for those who like to stand out, and I reckon I might include myself in that category. This laptop is a bit back to basics space wise, but it is a winner nonetheless.
---
7

Salvatore Ferragamo Revival Laptop Case in Green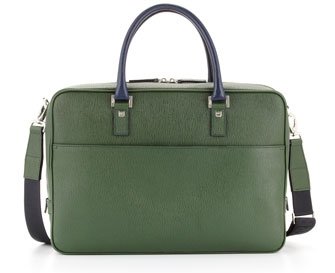 This classic laptop case is based on the briefcases typically used in Italy in the 1920s. It literally oozes luxury, and it is easy to see why it was so popular back in that era. It comes with plenty of room, which makes it ideal for any businesswoman or man on the move. You can adjust the shoulder straps too, which means you can make it as comfortable as you like.
Laptop cases don't need to be boring. So say goodbye to plain old black and welcome in something a little wilder. Think of a bag that suits your personal style, and add it to your outfit sharpish. If there is a laptop bag you adore, what is it?
---
Comments
Popular
Related
Recent