You wouldn't dream of traveling without your cosmetics so you need a makeup bag that lets you see the world in style. The perfect makeup bag is one that is roomy enough for all of your products, but not so bulky that it won't fit in your suitcase. Wondering what fits the bill? All of these makeup bags, shared with us by BestProducts.com, is the ideal shape, size and style for all of your travels. Where will you go next?
Table of contents:
1

Topshop Marvin Faux Fur Cosmetics Case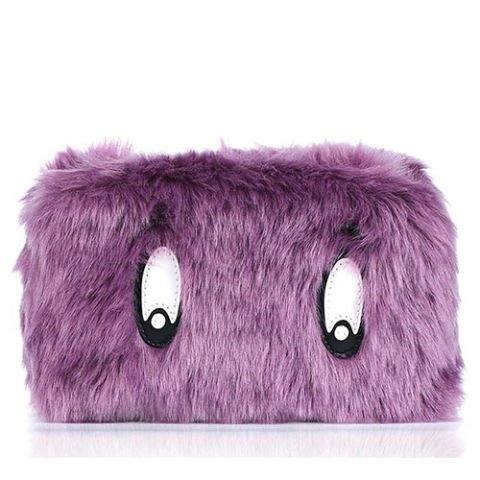 $22 BUY NOW
You're one click away from making this fuzzy friend your sidekick on vacation. Its gorgeous violet coloring and stitched-on oval eyes make this monster super cute, not creepy, so we definitely would advise sporting him at the bar.
2

Ted Baker London Florinn Wash Bag
$45 BUY NOW
Maybe you're not the girl who carries around her entire beauty closet. Ted Baker's floral clutch has such a delicate, elegant aesthetic that it can easily pass as an accessory while also storing the essentials like your favorite lip gloss, mascara, and incidentals.
3

Sephora Collection Beauty on the Fly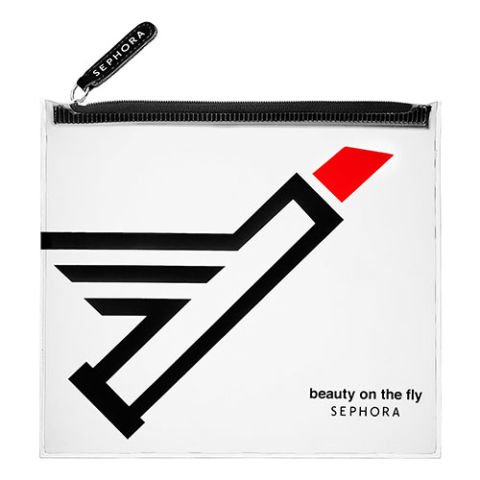 $5 BUY NOW
In a perfect world transferring our beauty stash from our home to hotel room would be a cakewalk; unfortunately, airport security protocol and weight limitations deny us this luxury. Our biggest challenge is getting liquid product from point A to point B, but with Sephora Collection's TSA-approved travel bag, liquid foundation and concealer can come along without a problem. Reusable, washable, and transparent, Beauty on the Fly literally saves (our) face.
4

Kate Spade New York Hawthorne Lane Glitter Miri Cosmetics Case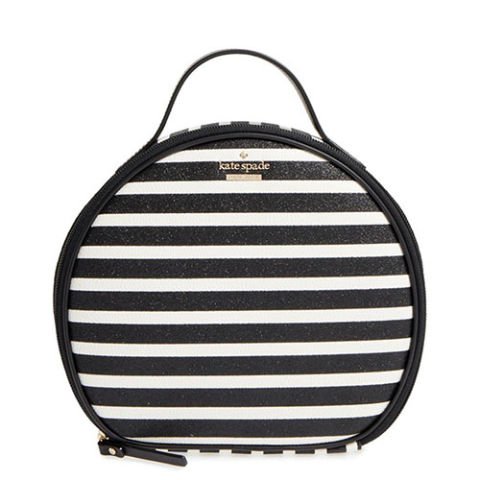 $128 BUY NOW
This black-and-white case is one you'll bring all over from a weekend getaway to an island vacation. There's something about stripes that's classically chic, and it goes with everything so who'll guess your brunching tote is also your beauty counter?
5

Flight 001 Spacepak Packing Compression Bag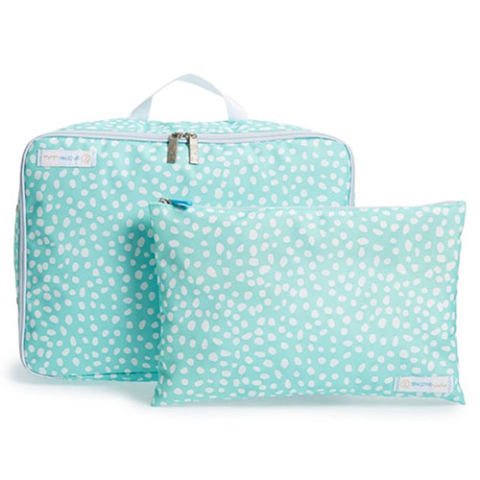 $46 BUY NOW
As long as you've got your boarding pass and polka-dots, traveling in style should be a breeze. This cool blue-mint Spacepak Packing Compression Bag is ready to take off will all your cosmetics and toiletries intact. With inner dividers, zip-pouch protection, and water-resistant material, it's the go-to accessory for the prepared-for-anything type.
6

Charlotte Tilbury 3rd Edition Rose Gold Canvas Makeup Bag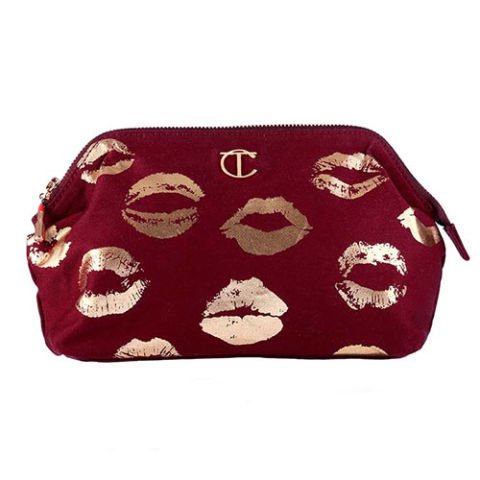 $45 BUY NOW
Charlotte Tilbury's burgundy canvas bag peppered with golden lip imprints is cheeky-chic, but don't be turned off by its wowing aesthetic. We promise the third-edition zip pouch is just as functional as it is fashionable.
7

Caboodles Primped & Polished Makeup Case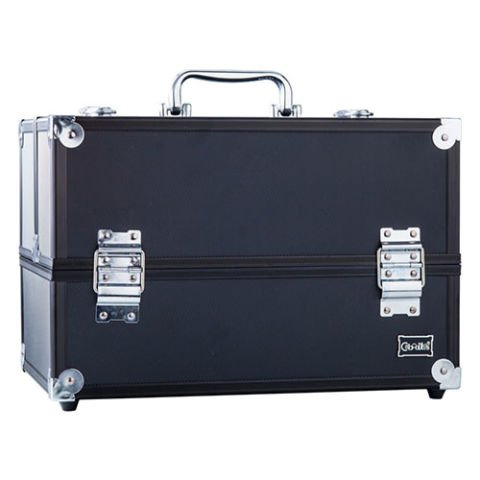 $80 BUY NOW
Caboodles are a blast from the past, but rest assured this brand has upgraded its aesthetic to a design not so childlike. The sleek charcoal casing with silver clasps and handle look sophisticated against any luggage set. The perks? It's a decent size with a bunch of compartments, diving 9 inches deep, so you can fit most of your stash.
8

Bh Cosmetics Studio Pro Large Set Bag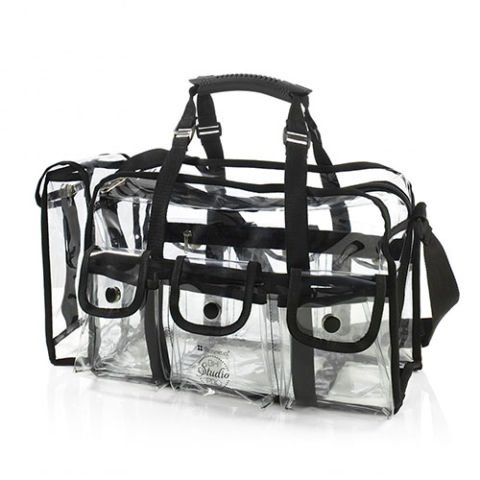 $24 BUY NOW
For the pro stylist or shameless makeup maven who insists she'll need at least three palettes, four liquid foundations, and powder options at hand for a weekend getaway, this humongous bh Cosmetics bag is the real MVP. Its large zipped center is perfect for chunkier packaging, and six exterior pockets dare you to pack in lipstick and blush compacts. Don't think too much about weight restriction, either. Complete with two adjustable, sturdy handles, it's ideal for on-the-go lifestyles.
9

Bobbi Brown Cosmetic Bag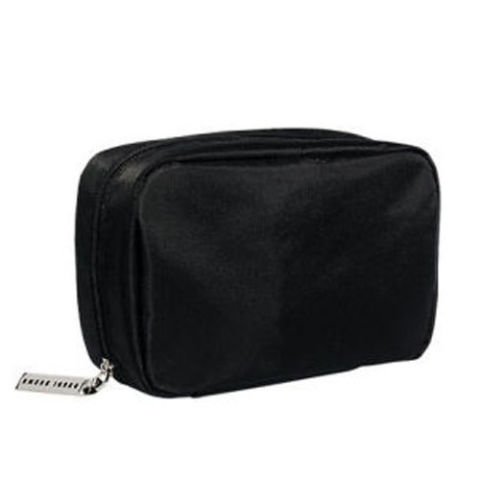 $30 BUY NOW
Stick to the basics with this cosmetic bag by Bobbi Brown in easy-to-clean black nylon. The small size travels lightly, but has interior pockets to hold all the essentials. If anyone knows about cosmetic casing, it's this pro stylist.
10

Henri Bendel New Brown & White Hanging Cosmetic Case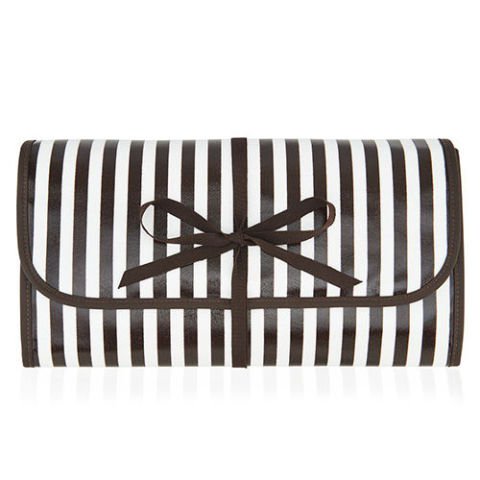 $58 BUY NOW
The fold-up style of this cosmetic bag is the ultimate for travel convenience. A hanger hooks onto the nearest surface and opens to reveal a bevy of zip compartments. Brown and white stripes signal signature Henri Bendel style.
Please rate this article