COMMENT
I love carrying a clutch bag. They're so sophisticated, and so versatile, I'm almost loathe to use any other bag! I especially like unusual clutches, ones that I know I won't see anyone else carrying. And I've found a bunch on one of my favorite fashion sites! Here are 7 gorgeous clutches from Anthropologie.
1. Change Your Spots Clutch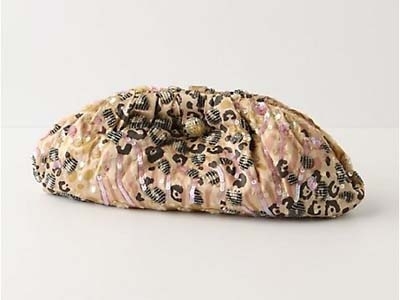 This beautiful silk clutch is highlighted with sequins and beads and is just begging to be worn with your favorite LBD. Note, my dear, the wild animal print, suitable for use by a cougar… so feel free to flirt with any young men who happen to catch your experienced, discerning eye!
Carved Doily Clutch
Explore more ...