I love carrying a clutch bag. They're so sophisticated, and so versatile, I'm almost loathe to use any other bag! I especially like unusual clutches, ones that I know I won't see anyone else carrying. And I've found a bunch on one of my favorite fashion sites! Here are 7 gorgeous clutches from Anthropologie.
---
1

Change Your Spots Clutch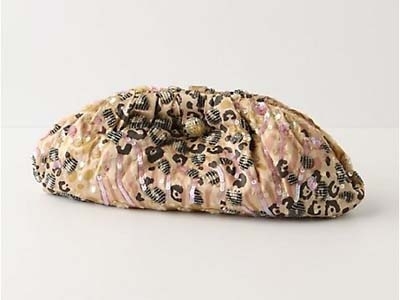 Price: $99.95 at anthropologie.com
This beautiful silk clutch is highlighted with sequins and beads and is just begging to be worn with your favorite LBD. Note, my dear, the wild animal print, suitable for use by a cougar… so feel free to flirt with any young men who happen to catch your experienced, discerning eye!
---
2

Carved Doily Clutch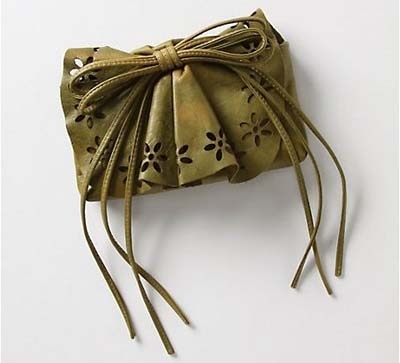 Price: $298.00 at anthropologie.com
There are so many lovely details that went into the making of this clutch, it's hard to say which I love more. Is it the flower-shaped cutouts? The gently ruffle pleat? The lush moss-colored leather? Or perhaps the sweet dangly bow on the front? Let's say I love them all equally, and imagine how beautiful this bag would look with an ankle-skimming Henley dress and brown leather clogs…
3

Fresh Delivery Clutch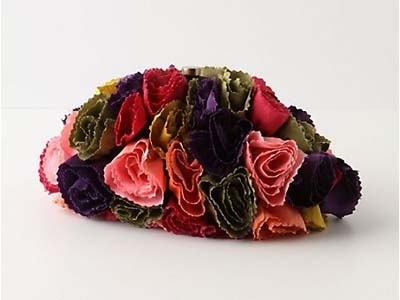 Price: $139.95 at anthropologie.com
Is that a posy of roses she's carrying, or something even prettier? Why, it's a clever little clutch, covered with ruffled, frilly flowers in a rainbow of colors. The flowers and bag are made of soft silk, and there's also a detachable skinny chair shoulder strap. What a lovely harbinger of spring!
---
4

Whirly-Twirly Clutch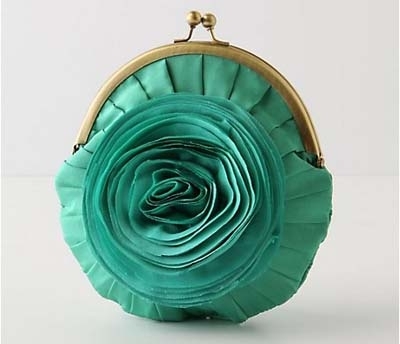 Price: $14.95 at anthropologie.com
This gorgeous little silk rosette clutch comes in bright blue-green (the color of the Caribbean sea) or sweet yellow (the color of daffodils), and which color you choose is a matter of personal preference. In fact, at this price, perhaps you ought to consider both, for wearing with your pretty floral frocks and leggy skinny jeans alike.
---
5

Gather Together Clutch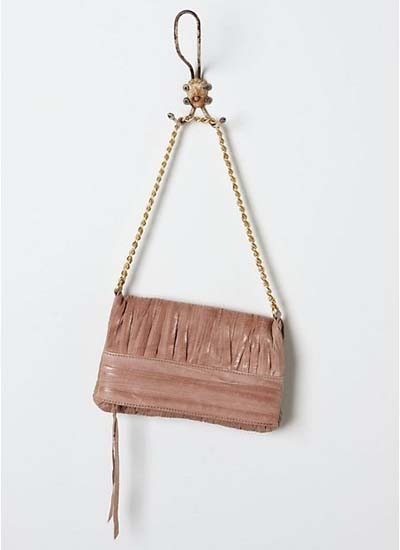 Price: $ at anthropologie.com
Look closely, for this gorgeous little clutch has a few secrets to share. It's made of soft, lush leather, with a detachable chain shoulder strap, but that's obvious. Further inspection reveals a clever, roomy fold-over design, with plenty of pockets for keeping all of your essentials in order. Not bad, for a seemingly small clutch!
---
6

Ice Wine Clutch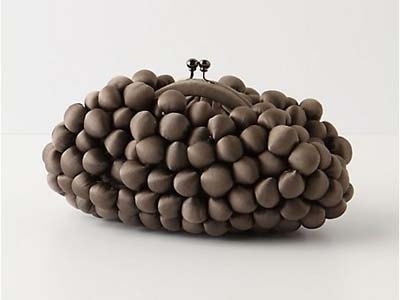 Price: $99.95 at anthropologie.com
What an unusual clutch! It's made of silk "grapes," giving the bag a very round, organic feel. Carry this with skinny jeans, tall ankle boots, and a sheer tunic to a wine tasting, or with a menswear-inspired pantsuit and ruffled blouse to add a feminine touch.
---
7

Beaded Synergy Clutch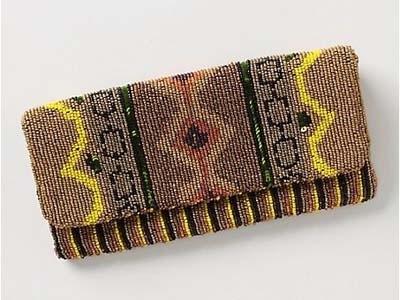 Price: $99.95 at anthropologie.com
Add a pop of color and the visual interest of a southwest-inspired print to any of your more modest LBDs, or to a grey or earth-tone maxi dress with this pretty clutch. It's heavily beaded, in a pleasing pattern, with room inside for your wallet, keys, cell phone, and a fabulous lipstick.
Aren't all of these clutches absolutely gorgeous? Now you must know why I love carrying them. Which of these clutch bags do you like best, and with which of your outfits would you carry it?
---
Comments
Popular
Related
Recent