Well, I've written a whole post on studded shoes so I'm guessing that leaving you without a few fab studded bags to wear your babies with would be totally unfair. They are trendy, cool and we already have shoes to wear them with so, why not give them some virtual space on this World Wide Web, too? You agree? Great, then let me share these 8 fab studded bags I've found!
---
1

Max C London Studded Clutch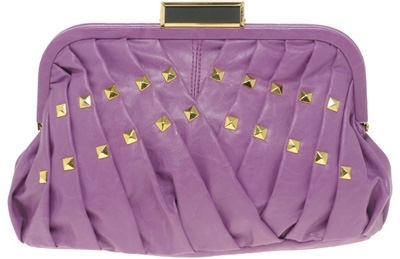 Price: $17.93 at asos.com
Awww! I simply can't say no to a purple bag! I don't care what shade of purple it is, as long as it's purple, it's one of my favorites. Plus, it has these great, carefully places studs that give it some major style points without taking anything away from its elegance and sweetness.
---
2

Oasis Studded Leather Bag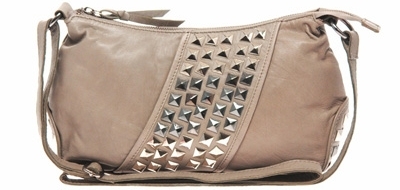 Price: $53.79 at asos.com
Stylish, nude and cross body- now that's what I love about this gorgeous example of how cool, practical and fab studded bags can get. It's not the biggest one out there, that's for sure, but okay, our spine, arms and shoulders deserve a break here and there.
---
3

Volcom "Did I Studder" Hobo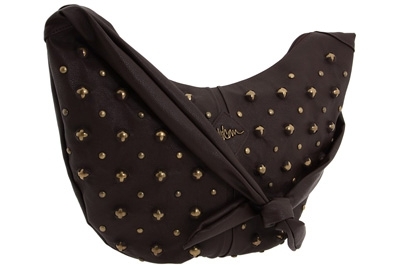 Price: $40.00 at zappos.com
LOL! Here's a funny title to add to your list of fab studded bags! I've already added it on mine and I must say that I'm very pleased to see a big studded bag that actually looks nice. I don't get to see a lot of those these days… either that or I'm starting to become allergic to overly flashy stuff.
---
4

Aldo Wixom Studded Clutch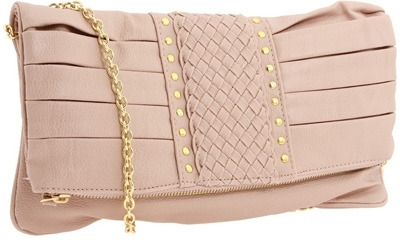 Price: $40.00 at zappos.com
Speaking about elegant and fab studded bags- take a peek at this one! I love it, I love it and I love it. When it comes to bags Aldo is definitely in my top ten because every single bag I've seen is both trendy and elegant. I'd love it more if it was leather but okay, this PVC version looks pretty amazing, too.
---
5

Betseyville Punk Rox Small Flap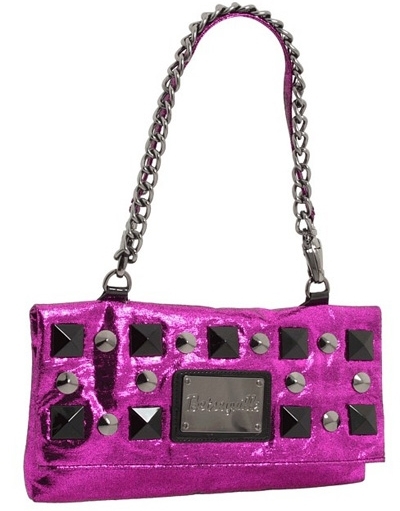 Price: $52.00 at zappos.com
How about this purple one, my ladies? Something like this just can't go unnoticed, I'll tell you that. But that's not so important, the important thig is that it can do wonders for a plain outfit and an ace like that is always a good one to have up your sleeve.
---
6

Big Buddha Malibu Bag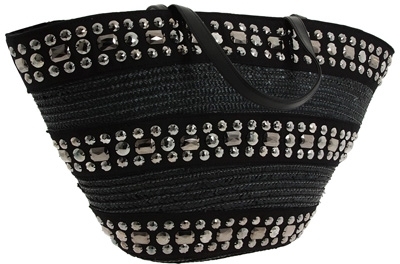 Price: $71.96 at zappos.com
Beach totes are getting fancier and fancier every year so this summer, be prepared to take your glam-rock style to the beach too. It's big enough to keep all your skincare products, even a magazine or two you might like to enjoy while sun-tanning and, once you decide to leave and do some sightseeing on your way to the hotel, this fab tote won't be deadweight but a stylish accessory you'll sport with pride!
---
7

Lucky Brand Leather Zip Wristlet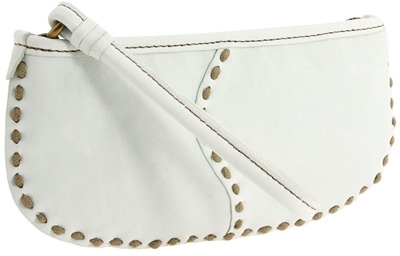 Price: $31.20 at zappos.com
Studs go great with white too! Don't believe me? Well, check out this cute, leather wristlet. You don't have to have a pair of studded shoes to be stylish, just pack your lipstick, cell phone and some cash, put the strap around your wrist and you're ready to go!
---
8

Big Buddha Jacqueline Clutch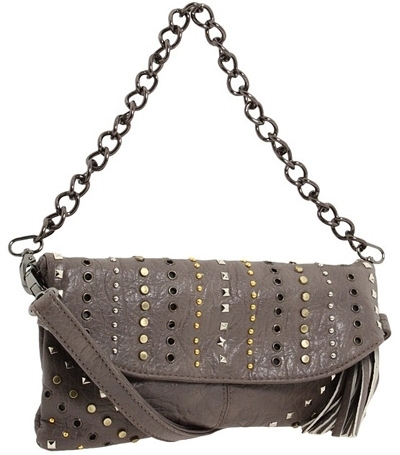 Price: $47.16 at zappos.com
Here's another cross body bag to help you have both of your hands free without having to give away any style points. This is actually a very good cross between an oversized clutch and a cross body bag so, you can wear it the way you please and enjoy the comfort of having all your little trinkets at hand.
Hope you liked these 8 fab studded bags, girls, because I know I do. Are you down with the "studded" trend of you can't wait to see it gone?
More
---
Popular
Recent