I don't wear a lot of make-up, but I sure do have a lot of it, so I'm always looking for a way to keep it tidy and off of my countertops. I have a collection of make-up bags, one for eye shadow, another for lip glosses, but they're falling apart, so it's time to do a little shopping! I've found a few new ones, and now all I have to do is decide which to buy. Here are 7 fabulous make-up bags.
Table of contents:
1

Dotty Cosmetics Bag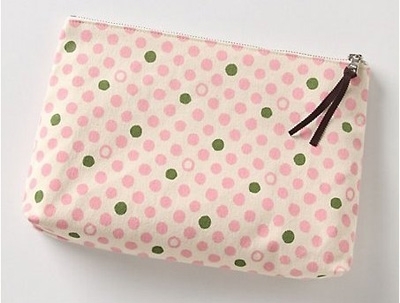 Price: $38.00 at anthropologie.com
Are you dotty for dots? Then this roomy bag by Lovell may be just the thing, made of soft cotton with rows and rows of pretty pink dots with a few bright green ones for good measure. It's machine washable, and has a zip top. It's so pretty, I'd be tempted to use it as a clutch with a pretty floral dress!
2

Mountain Peaks Cosmetics Bag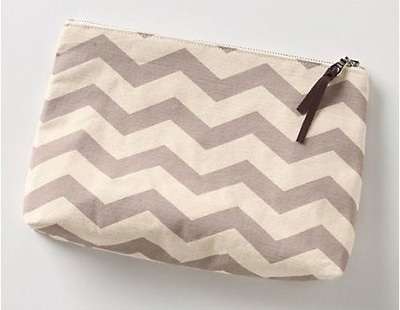 Price: $38.00 at anthropologie.com
Here's another pretty cosmetics bag by Lovell, this one also made of machine-washable cotton, with another lovely print. This one features a silvery zig-zag pattern so it's easy to find in your handbag or vanity drawer… or in the dark cavern under the bathroom sink.
3

Dashy Cosmetics Bag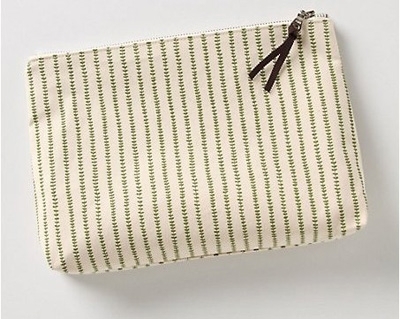 Price: $38.00 at anthropologie.com
This is most definitely the make-up bag for me! I love the tiny green leaves on the tall vines, and that it's machine-washable (I tend to get messy with the eye shadows). The zipper along the top makes finding the make-up I want inside easy, and did I mention I adore the pattern?
4

Rick-Rack Cosmetic Bag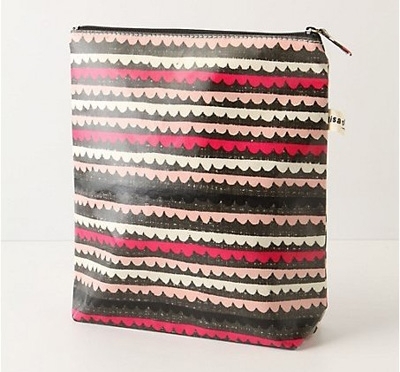 Price: $54.00 at anthropologie.com
Choose from bright yellow or cherry red, either way, this laminated cotton make-up bag would be a lovely addition to your collection. It's roomy enough for all of your favorite lippies and liners, and is designed by Lisa Stickley. I love the vivid scalloped rick-rack pattern… so chic!
5

Pondicherry Cosmetics Bag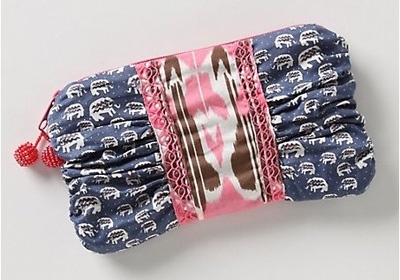 Price: $28.00 at anthropologie.com
Here's another make-up bag I'd be delighted to use as a clutch, this one by Porridge, featuring bright prints inspired by lush Indian saris. It comes in four brilliant colors — pale pink, bright red, blue, and leaf green — with a shiny beaded toggle on the zipper close at the top. I adore the pink and green one!
6

Weekend Getaway Cosmetic Bag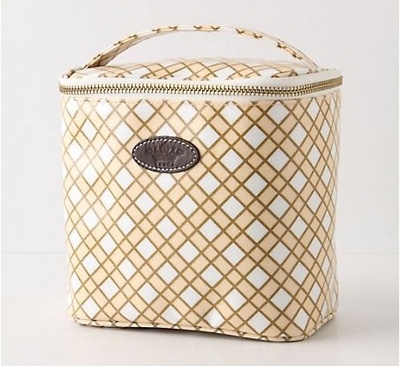 Price: $36.00 at anthropologie.com
Are you planning a weekend getaway, or just looking for a larger make-up bag, one that can sit on your countertop with pride? This one by Tocca's just the thing, in pale cream or blue, with a top handle, zip-around opening, and flat bottom. It's made of wipe-clean laminated canvas, so it's sturdy, too. This is on my must-have list!
7

Press Camera Makeup Bag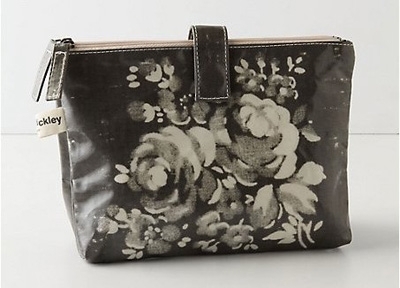 Price: $58.00 at anthropologie.com
This is really two bags in one, joined by a magnetic snap-flap on top of both. Both feature the same gorgeous black-and-white floral print inside and out, and zippers at the top, and both are made of the same laminated cotton by Lisa Stickley. Use one for eye make-up, the other for lippies, and stay tidy and organized.
With so many gorgeous make-up bags to choose from, I'll soon be as organized as ever, with all of my eyeliners, lippies, and bronzers in their tidy place and not a thing out of order. Which of these make-up bags do you like best, and why?
Please rate this article