Gothic bags with a dark edge are just the ticket for all you fashionistas who prefer a look that mixes hard rock appeal with high drama. Studs, spikes, and lots of black leather are particularly ideal if you're looking to try the new, modern twist to Goth fashion. Finding the perfect edgy handbag is easy, you just have to know what you're looking for – and for that, all you have to do is take a look at these stunning, super inspiring pieces. You don't need dark eyeliner and black lipstick (but you can rock those bad, beautiful looks if you choose!); all you need are the right Goth accessories.
---
1

Sharp Spiky Style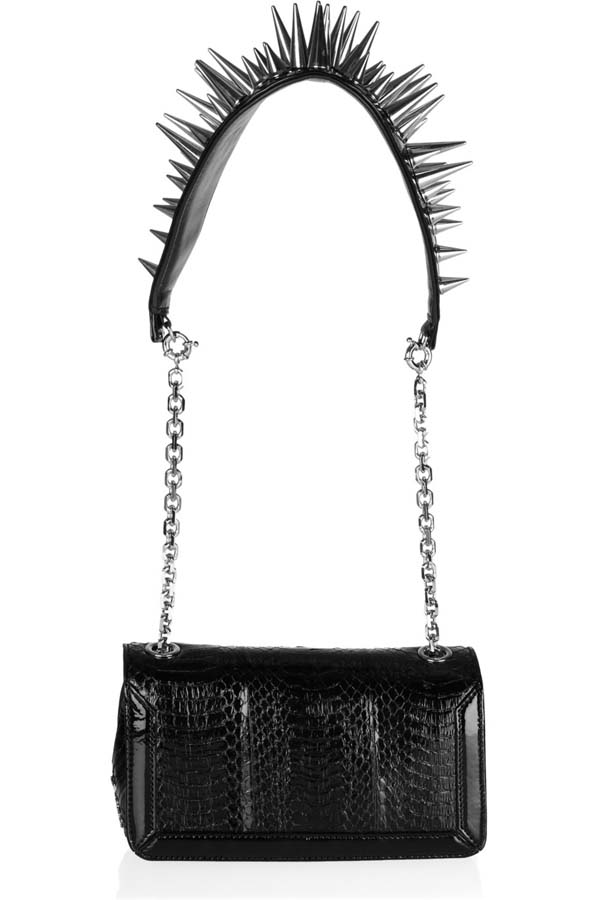 A lot of Gothic bags incorporate plenty of spikes of all shapes and sizes. They used to decorate your wristbands and bondage straps, but now you can wear them on your purse straps! Christian Louboutin's Artemis spiked leather shoulder bag is a sharp, pointy example that falls on the more extreme end of the spectrum, but there are plenty of pieces with subtler spikes and details that aren't quite so dangerous. If you're brave and courageous in terms of your fashion choices, wear your spiked bag all day, every day; otherwise, it's the perfect accessory for an evening out. Just make sure you wear it with bold colors, like dark wine red or burgundy.
---
2

Bright White Goth Bags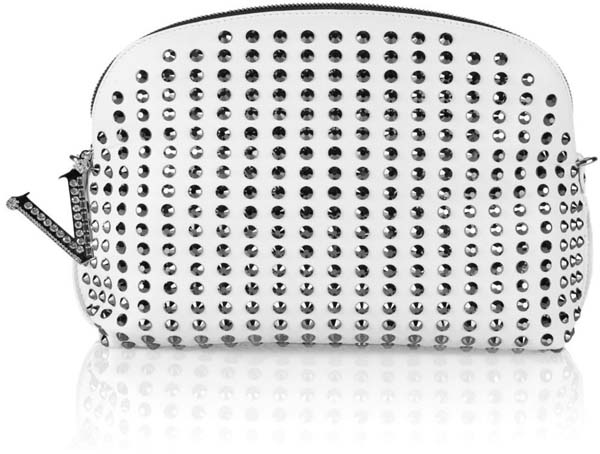 Just because you're buying a Gothic bag doesn't mean it has to be all black and dark. As Versace shows us with this gorgeous studded nappa clutch, you can easily look for polar opposite pieces and still exhibit modern Goth appeal. If you're daring enough to carry a white bag, just make sure you find something with the right details: studs, spikes, chains, or subtle crystals are all perfect. Whether you choose a white clutch, tote, or shoulder bag, you'll find that it goes with lots of different outfits, from darkly dramatic dresses to skinny jeans and dazzling tops.
---
3

Lovely Lacy Bags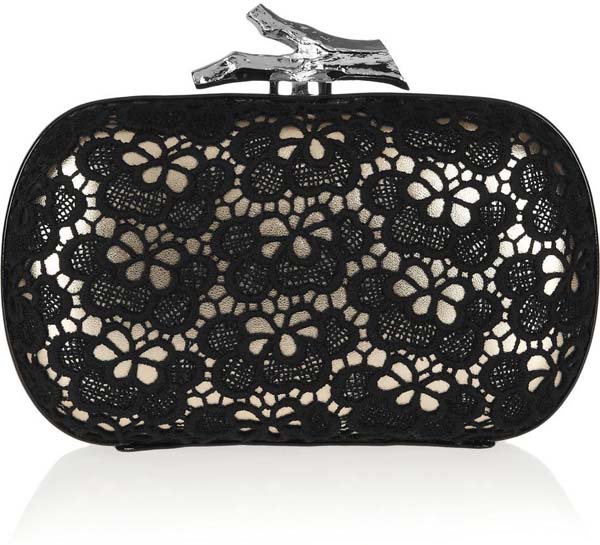 Lace – black lace, especially – is a wonderful way to incorporate Gothic style. Diane von Furstenberg's Lytton lace clutch is a perfect nighttime piece, but there are plenty of larger bags from which to choose as well. Lace overlay always looks gorgeous, whether it's black on black, black on burgundy, or black on metallic, like you see here. Needless to say, something like this looks best with a sexy little dress or fitted top-and-skirt combo, but it looks fantastic with just about any color combination, so you should definitely experiment.
---
4

Sexy Studded Handbags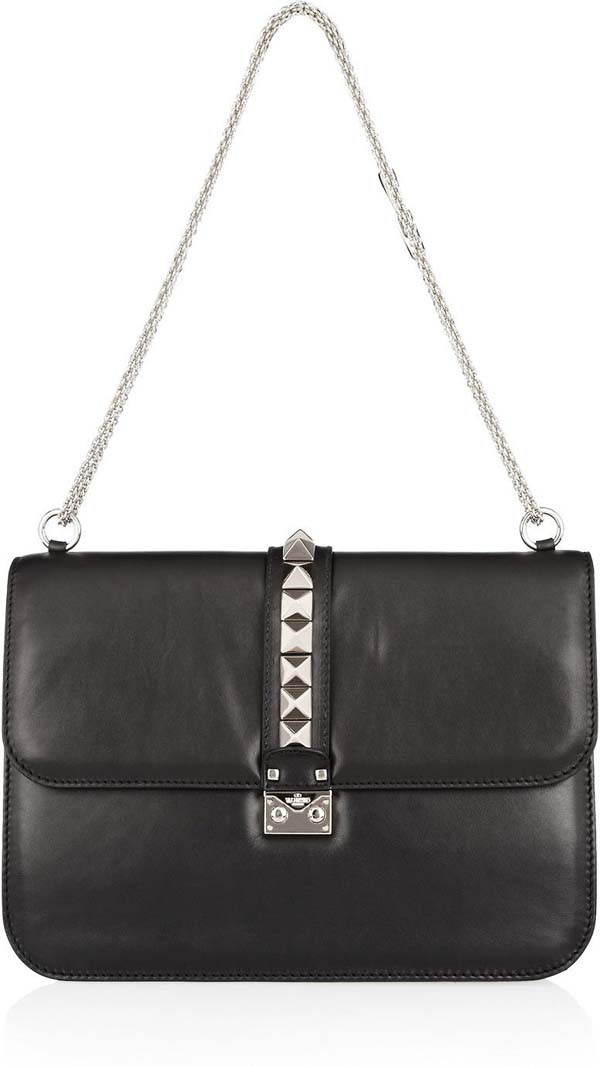 You can't talk about Gothic bags without discussing the sex appeal of studs. Seriously, they're just so punk rock chic, they provide just the right amount of edge to any ensemble. You can go all out with your studs or keep it cool and subtle. If that's the way you want to go, get inspired by this Valentino studded leather shoulder bag – it's definitely got the right look! The great thing about a bag like this is that you can carry it to work, while you're out shopping, or on a date. It looks just as fantastic with boots, jeans, and a fitted button-up as it does with an LBD or a sexy suit for work.
---
5

Edgy Bags with Daring Designs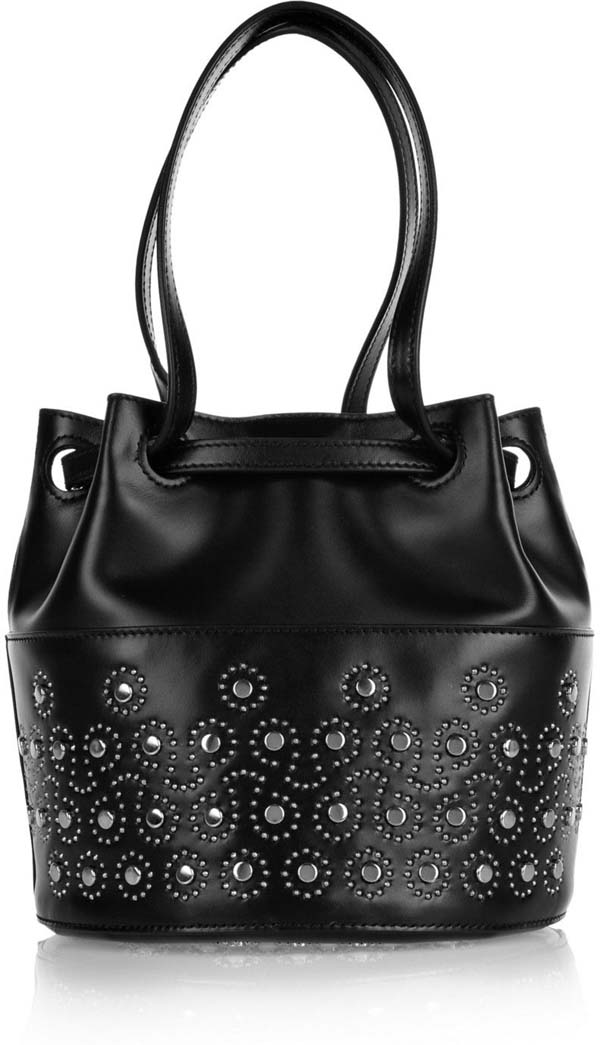 Sometimes the design is just as important when you're choosing an edgy bag. Alaïa's mini studded bag is a perfect example of the intricacy and artistic detail that goes into many Goth bags. It has studs and such as well, but the pattern they create is the real eye-catcher. When you're looking for a new bag, think about getting something with a really artistic feel to it, like this one. Since it's subtler, then again, you'll get a lot of wear after it, whether you're wearing leather, denim, or silk.
---
6

Glittering Gold Goth Handbags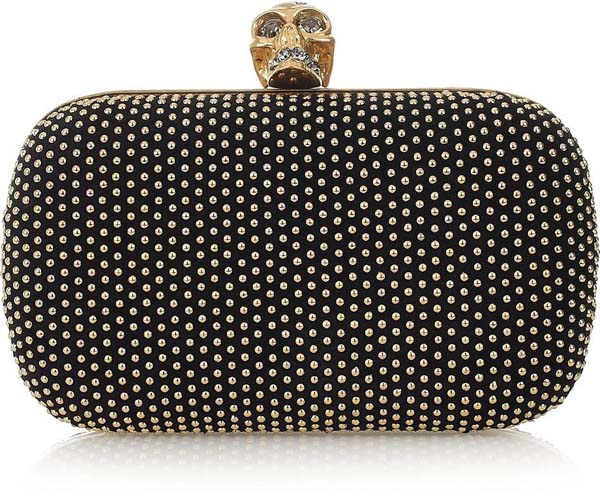 Where once it was all about silver and black, the Goth trend gets a glam makeover this season. You'll find just as many pieces that mix black with gold for a luxurious but still edgy appearance. It goes without saying that Alexander McQueen offers a perfect example with this stunning classic Skull box clutch – and it also goes without saying that skull accents don't hurt, either. If you're looking for evening bags, keep an eye out for something like this. The combination looks amazing with red, burgundy, dark green, and blue, so don't save it solely for your little black dress.
---
7

Sleek Shiny Bags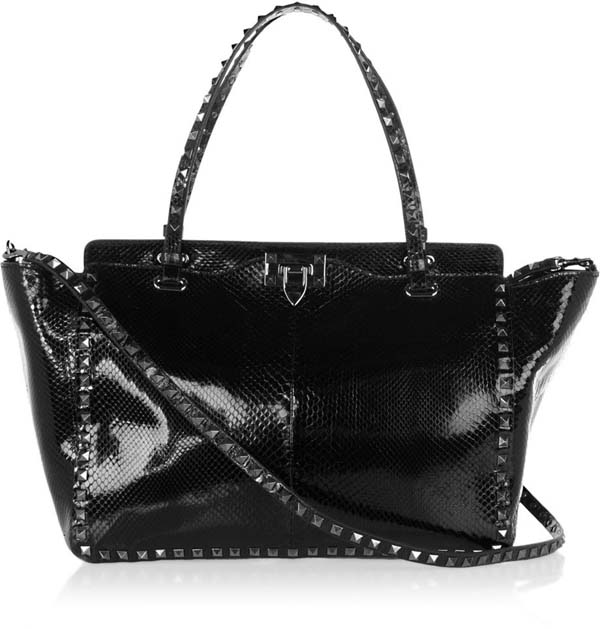 If you find something with patent leather or any other glossy fabric or material, jump on it! Lots of black Gothic bags now have a definite sheen. This glossy trend both adds to the darkly decadent details of the trend and makes it a little more modern. I love Valentino's Rockstud tote because it also features plenty of studs – a glam combination! You don't have to go with something that passes for a mirror reflection, but look for a bag with a shine and pair it with leather leggings and colorblock dresses in more neutral shades. Do feel free to get a little bolder with your jewelry, though!
---
8

Growl-Worthy Animal Accents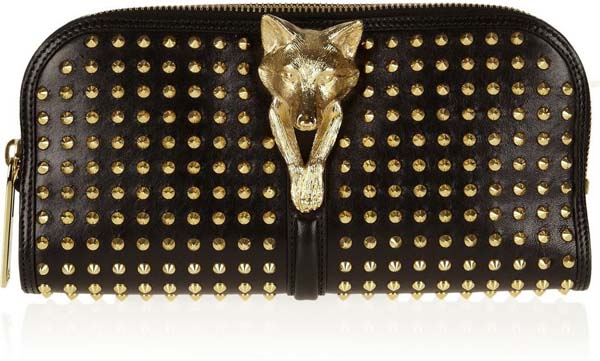 If you're looking for a really edgy handbag, you need to get a little animalistic. It doesn't take a lot: just take a look at this studded clutch from Burberry Prorsum. It incorporates lots of Goth-glam trends – it's black and gold with plenty of studs – but it also has that gleaming, gorgeously rendered fox head. Foxes, wolves, snakes … just look for bags that make it easy for your inner wild thing to emerge. Whatever you choose, it will be a fun, stylish piece to carry with you on those crazy nights out with friends or lovers.
Since I was sort of pseudo-Goth in the late '90s and early '00s (don't judge!), I love these Gothic bags. They make me nostalgic – plus they're just totally bad ass. Now remember, you don't have to spend a fortune to embrace this style; take these examples as inspirations and find something that suits both your style and your price point. In the meantime, tell me: what, if any, Goth accessories do you look forward to trying this season?
Top Image Source: thebeautybutton.co.uk
More
Popular
Recent