Play up the floral trend in a different way this season by embracing floral bags. Floral prints are a year-round favourite but we usually see them worn in the form of clothes. A floral bag, however, would make a cute addition to your outfit. From vintage-inspired floral prints to modern takes on the trend, there are just so many different ways to pull off this look. Check out our list of fabulous floral bags.
---
1

Floral Cross Body Bag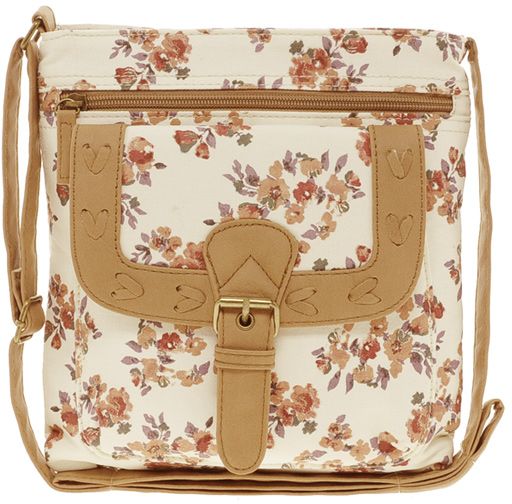 Small floral bags are a subtle way to incorporate this trend into your outfit. A light, pastel floral print like the one on this bag is versatile enough and wouldn't clash too much with outfits. It has a compact design with long faux-leather tan trims and can be worn across the body. It costs around $17 from New Look and you can also find similar bags at Wet Seal and Urban Outfitters.
2

Floral Tote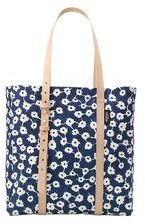 A large floral tote is great option for a casual day bag. This tote by Kate Spade Saturday features an indigo and white floral print and light tan trims. It's a wearable option and the floral print isn't too over the top. You could wear it with anything from tank dresses to tailored shorts. It is pretty pricey at $140 but you can find similar, more affordable floral totes by Aeropostale and Urban Outfitters
---
3

Floral Clutch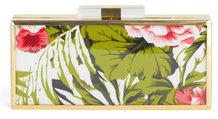 Work a different angle with a tropical inspired floral print. This boxy clutch features a bright hibiscus print. It would look great worn with a crisp white dress and heels for a fresh, sophisticated outfit. This particular clutch is available from Modcloth for $50, which is a fraction of what you'd be paying for similar designer versions.
---
4

Floral Handbag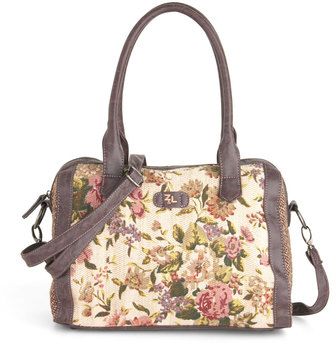 If you're after a carryall bag, then check out this floral number from Modcloth. It features a vintage-inspired floral print and mauve-grey faux leather trims. Carry it by the top handles or use the long strap to sling it over your shoulder. This bag is a great everyday option and would make a nice addition to a simple outfit of a blouse, skinny jeans, and ballet flats. It'll set you back around $65 and you can find similar bags at ASOS.
---
5

Floral Backpack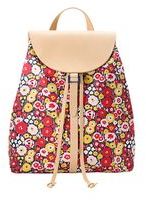 These days, backpacks can be quite the fashion item. This backpack by Kate Spade Saturday features a multicoloured floral print. It's perfect for the adventurer – wear it with shorts and sneakers to hit the outdoors or team it with bright dresses for a day spent exploring the city. This bag is pretty pricey at $130 but you can find more affordable floral backpacks by Billabong and Olsenboye.
---
6

Embroidered Floral Bag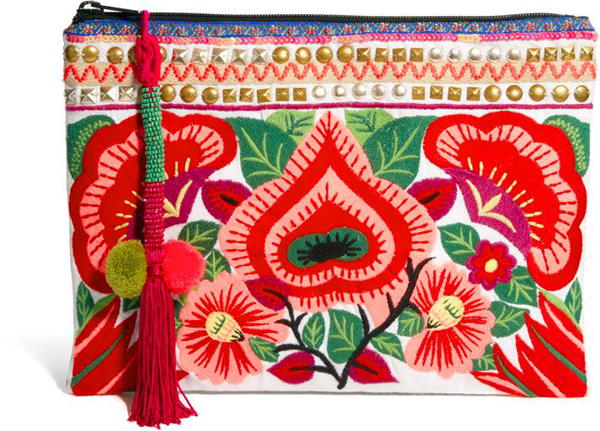 Give your outfit an eclectic feel with this bright embroidered floral clutch bag. It features floral embroidery, beaded trims, and a large tasseled zipper. Carry it during the day with a denim dress and flat sandals or wear it at night with a slinky singlet, fitted trousers, and heels. This particular embroidered floral bag costs around $50 from ASOS but you'd also be able to find similar bags at market stalls.
---
7

3D Floral Bag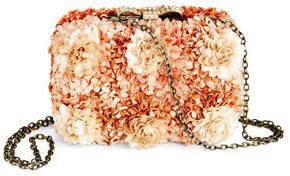 Add some glamour to your night time look with an embellished floral bag. This compact clutch bag features all-over 3D floral embellishments. The blush and ivory flowers almost look like the real deal. This bag costs $62 from Modcloth and could be worn with a slinky cocktail dress or maybe a camisole and cropped tuxedo trousers.
These are just a few examples of floral bags to style your summertime outfits with. It seems that no style of bag has been left untouched, with floral prints adorning everything from totes to backpacks. Which of these floral bags do you like best?
---
Comments
Popular
Related
Recent