Pretty purses are perfect for those who are looking to add a little bit of whimsy to their everyday accessories. Whether you're after a cute coin purse or a more functional wallet, the number of pretty purses out there is very large. Splurge on a designer number or show off your savvy saving skills with a stylish budget buy. To narrow down the list, we've put together an assortment of pretty purses for you to stash your cash in.
---
1

Pastel Patent Purse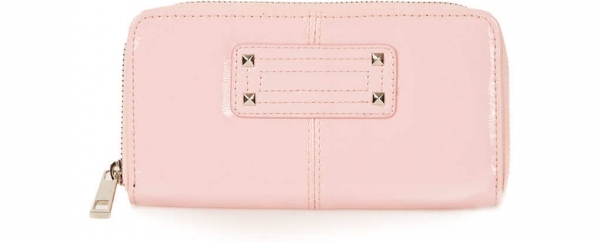 When it comes to pretty purses, you can't beat a good pastel number. This long zip around purse comes in a pastel pink patent finish. It's perfect for stashing your cash and cards, and any other stray bills or receipts you might happen to pick up along the way. It costs $32 from Topshop and is also available in black and dove grey.
---
2

Rose Gold Zip Top Purse

This rose gold purse would be a sleek addition to your everyday essentials. It is made from smooth matte leather and comes in a lovely rose gold finish. It has a zip top closure with a large inner compartment. This Whistles purse is a bit of a splurge at $75 but it would be perfect for showing off inside an on-trend clear handbag.
---
3

Addicted to Shopping Coin Purse

Are you addicted to shopping? This purse will spell your addiction loud and proud, thanks to the cute printed slogan on the front. It's ideally priced too, at around $7 by New Look. Perfect for the bargain hunter in all of us!
---
4

Glitter Leather Purse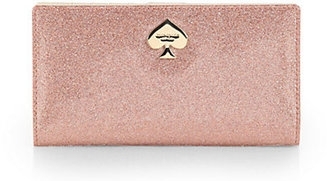 Add a little bit of glitz and glamour to your life with a glittery purse. This Kate Spade purse comes in a dazzling dusky pink glitter finish. It features one outside pocket, a snap top closure, and plenty of card slots and bill compartments. It's pretty expensive at $98 but you can easily make it do double duty at night as a compact clutch.
---
5

Bow Detail Purse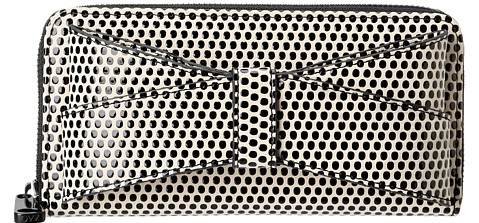 If you love a good bow detail then this Zac Posen purse should be right up your alley. This vinyl purse features an on-trend embossed polka dot pattern and a large bow detail to the front. It also has plenty of inner compartments for you to stash your cash in. Do expect to splurge on this purse, as it'll set you back around $95, but you can always hunt around stores like Topshop and ASOS for similar yet more affordable versions.
---
6

Appliqué Leather Coin Purse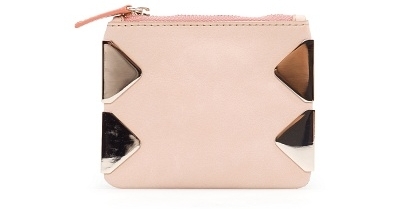 This compact purse still makes a splash. Despite its size and neutral hue, the triangle metallic detailing on this purse definitely sets it apart. It's by Mango and costs around $30, and is the ideal size for carrying your spare coins.
---
7

Big Spot Zip around Purse

The Cath Kidston purse has an almost ladybug inspired design. It comes in a bright red colour with bold white spots. It has plenty of inner compartments for you to store your notes and loose change. If this purse tickles your fancy then you can grab one for around $40 from ASOS.
---
8

Monochrome Purse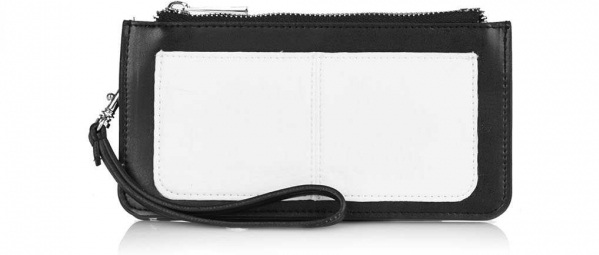 If you're more of a minimalist than this monochrome purse should please you. It's sleek and sophisticated, featuring a black body with a white front pocket. It also has a zip top and wrist strap. It's pretty attainable too, at $32 from Topshop.
---
9

Lemon Yellow Studded Purse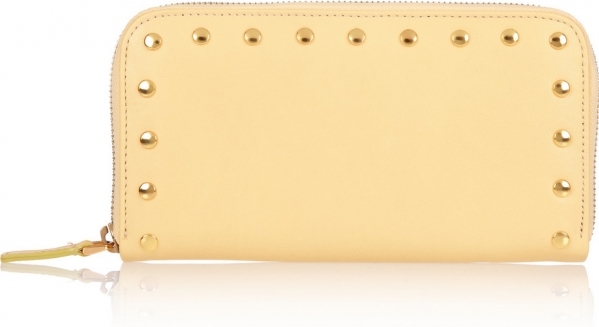 The most expensive purse on this list, this one's for those who love a designer splurge. This Marni purse comes in a lovely light lemon hue and features studded details around the edges. It costs a whopping $560 but bargain hunters might be better off checking the usual chain shop suspects for more affordable purses in this colour and style.
There's a pretty purse to suit almost all budgets. These are just a few pretty purses that we wouldn't mind adding to our list of everyday essentials. Which of these purses would you choose to stash your cash in?
More
---
Comments
Popular
Recent