Fashion and technology have a tendency to go hand in hand these days and you only have to look at tablet cases to see how far tech accessories have come over the past couple of years. No longer just a functional piece of housing, all your usual tech accessories are now at the forefront of fashion. When it comes to tablets, there are a range of cases and sleeves available to help you carry and protect your most prized technological possessions. You can also make these tablet cases work double time by using them as fashionable clutches.
Table of contents:
1

Metallic Tablet Case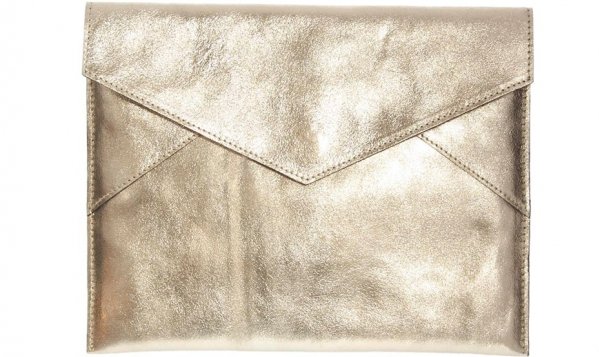 Tablet cases come in all sorts of shapes and designs, and this envelope case would make a stylish home for your tablet. It's made from real leather and has a metallic finish. You can grab it on sale for under $30 from ASOS. It's quite a glamorous option for a tablet but you could also empty it out and use it as a clutch for a chic evening look.
2

Patterned Tablet Case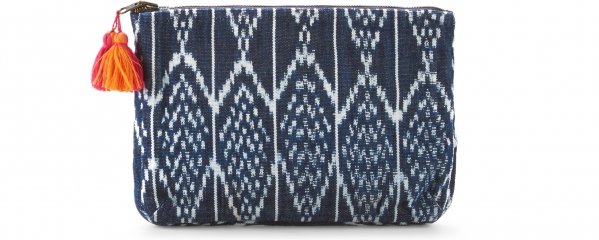 This patterned pouch for your tablet is a cute and quirky number. The design is a collaboration between Rachel Roy and Piece and Co. and will set you back around $38. When you're not toting around your tablet you could use it as a daytime clutch paired with a simple outfit of a tank top, slouchy jeans, and sandals.
3

Mini Tablet Case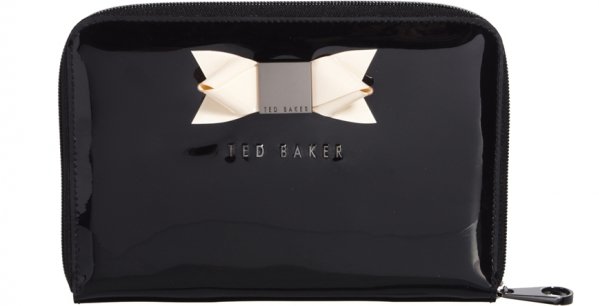 For tablets on the smaller end of the scale, try a mini case like this pretty Ted Baker number. It has a glossy finish with a zip around closure and dainty bow detail to the front. It costs around $60 and when you're not using it to hold a mini tablet you could use it to house a slim coin purse and keys.
4

Embossed Tablet Case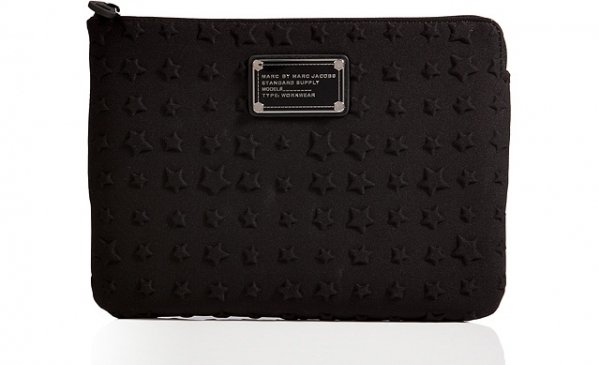 A simple black tablet case is perfectly understated. This Marc by Marc Jacobs case features subtle embossed stars and an engraved metallic plate to the front. You can purchase one for $40 on sale and the brand also sells a range of cases in numerous designs and colours.
5

Check Tablet Case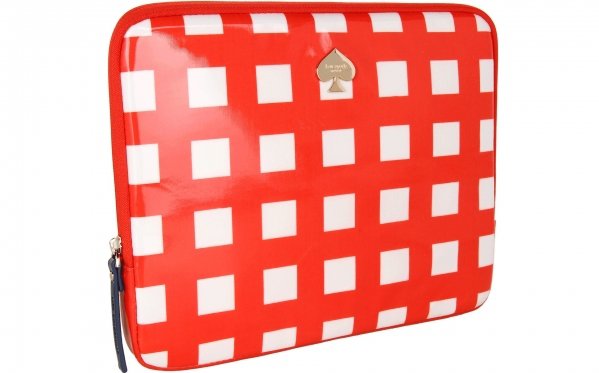 There's been a big trend lately for checks. This tablet case by Kate Spade New York taps into the trend with its red and white checkered pattern. It will cost you around $30 and you could easily make it work as a daytime clutch.
6

Monochrome Tablet Case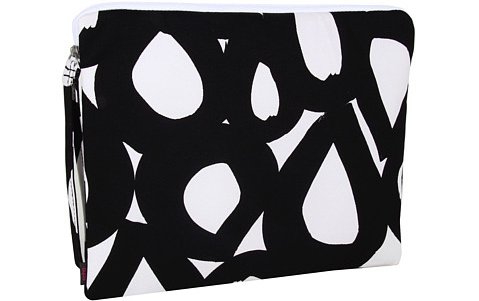 This tablet case by Echo Design features a bold monochrome pattern. It's perfect for the person who prefers statement graphics. It costs under $20 at 6pm.com and would look great used as a clutch with an entirely monochrome outfit.
7

Textured IPad Case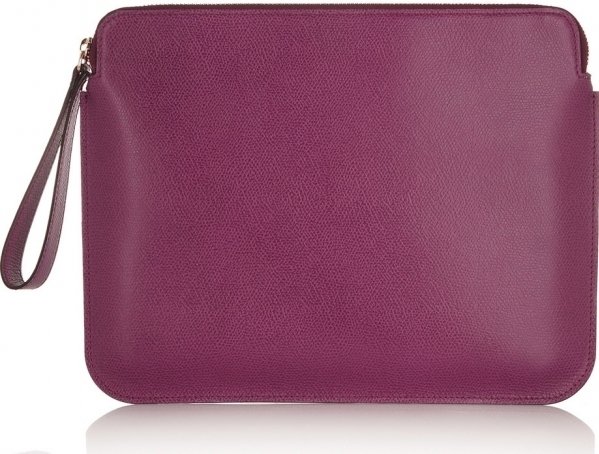 This leather iPad case is an exercise in understated elegance. It has a minimalist design and comes in a warm purple colour. Unfortunately, it's quite expensive at $550 by Valextra but you can find a range of minimalist cases by Banana Republic for under $100.
8

Studded IPad Case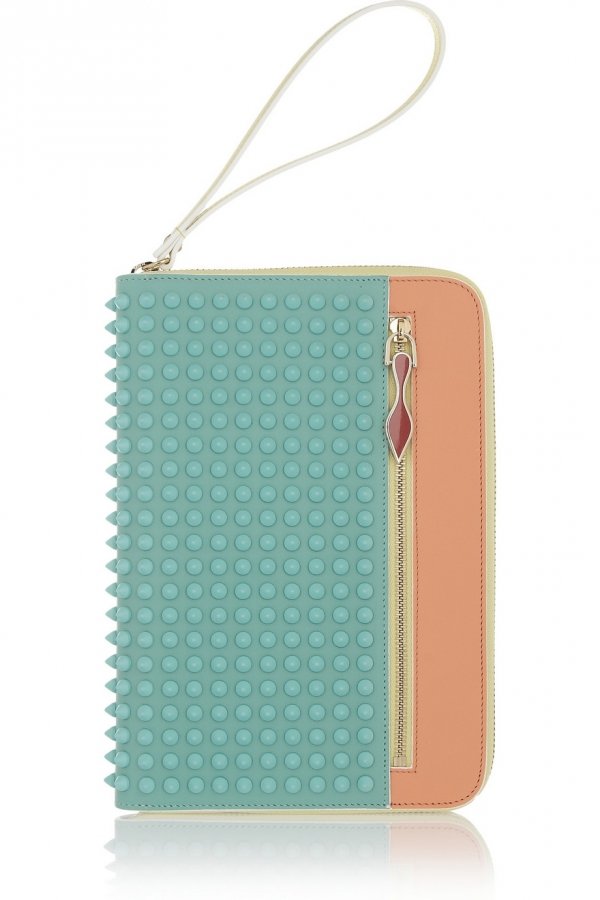 This pretty pastel iPad case comes in at the top end of the price range at $645. It's by Christian Louboutin and comes in a mint, peach, and lemon colour blocked design. While its main job is to house your iPad, the numerous card slots means that this stylish tech accessory could also double as a clutch. Team it with a white dress for a crisp spring-inspired look.
9

Satchel Tablet Case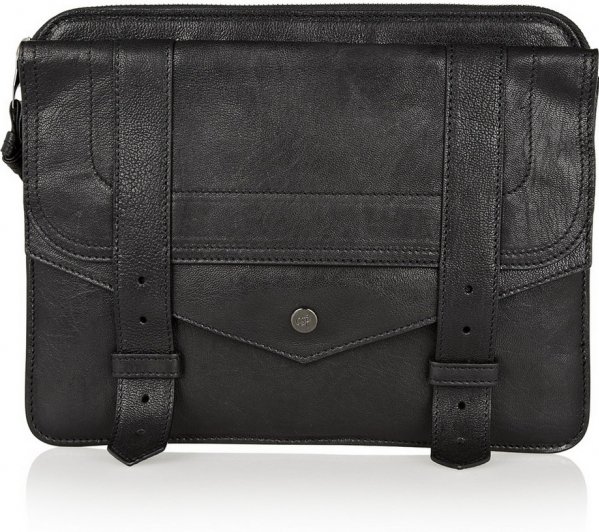 This black tablet case has an on-trend satchel design. It's by Proenza Schouler and comes in the popular PS1 style. It is extremely expensive though, and will cost you close to $700. For those who can afford to splurge, this tablet case would look great teamed with a streetwear-inspired look.
These are just a few tablet cases that could also moonlight as stylish clutches. From chain stores to designers, there's a case to suit a range of budgets. Which of these cases would you keep for your tablets and which would you rather use as a clutch?
Please rate this article