An outrageous, stylish embellished clutch adds all the necessary glam and edge to any kind of ensemble. If you're putting together a sexy date night look, a fun club outfit, or a cool but casual fashion mix, then a statement clutch bag is all you need. There are all kinds of shapes, styles, and colors, fantastic designer pieces, and fabulous inspirations, just in case you want name brand style at a more affordable price. If you're looking for a funky, fantastic evening bag, all you have to do is take a look at these glittering, glitzy, glamorous clutches!
---
1

Embroidered Clutch Bags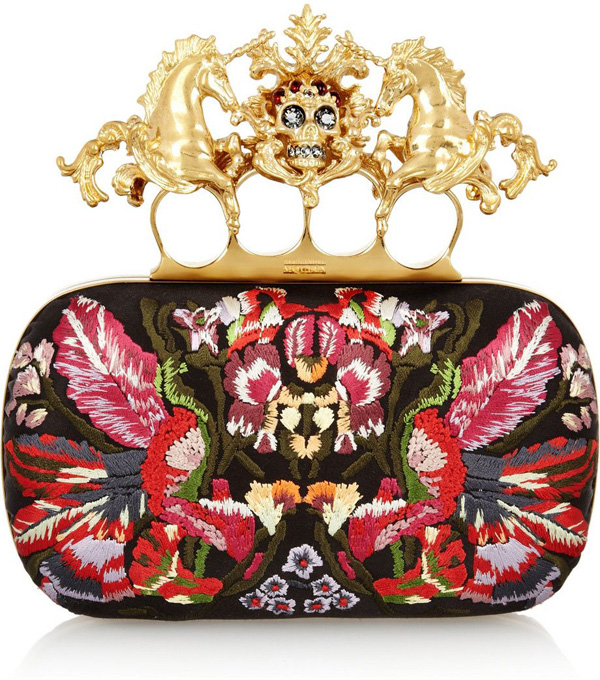 One look at this embellished clutch bag lets you know it comes from Alexander McQueen. I don't even know where to start, but I think the knuckle-duster, which features fabulous unicorns, is the best thing about this clutch. The embroidery is really stunning, and the best part is that lots of other designers and brands have taken inspiration from this signature look. Embroidery allows for lots of colors and bright designs, and the boxy shape is always a winner. Both details make something like this versatile, so it looks great with club gear, cocktail dresses, or long, sweeping formal frocks.
2

Innovative Shaped Clutches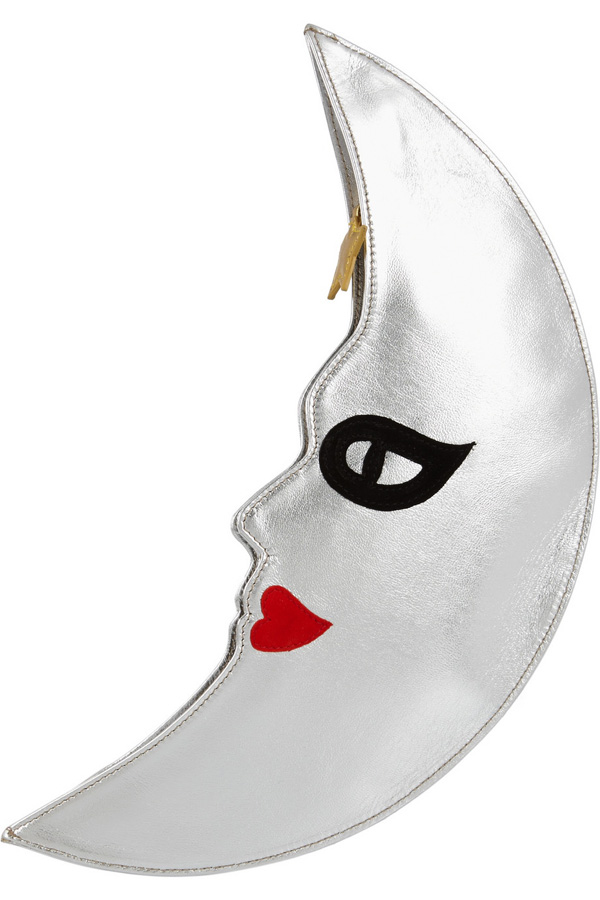 A lot of designers are getting innovative and creating embellished clutches shaped in unique ways. Charlotte Olympia has several of these, including this moonmad Lunatic Leather Clutch, which is ideal for all you night owls out there. You'll be able to find a lot of bags like this one in various shapes: lips, domino pieces, pianos, suns, stars, and Baboushka dolls. They're all fantastic, eye-catching, and sure to start some serious style conversations. They beg for fun outfits, like sleek colorblock dresses or skinny jeans and sparkly, glittering tops.
---
3

Bejeweled Glitter Embellished Clutches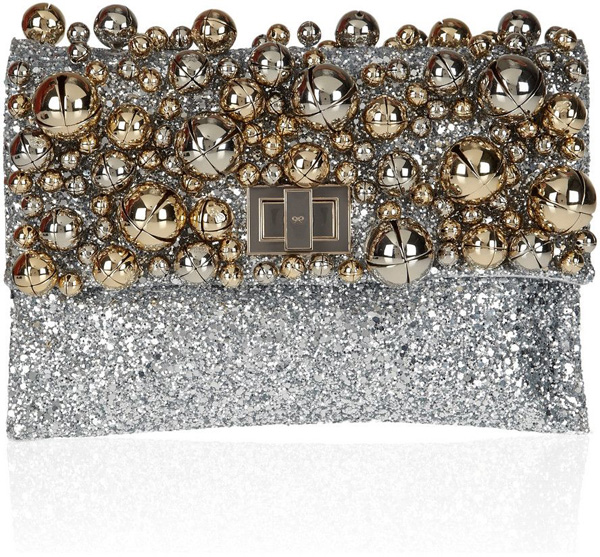 Glitter, jewels, and crystals create instant glamour. There are lots of stellar, sparkling pieces like this Anya Hindmarch leather clutch, it all depends on what colors and styles you like. They're ideal accessories for cocktail dresses or formal attire, but you can also carry them when you're wearing an outfit that simply cries for a little glitz. This particular clutch would look amazing with a chic, sleek sheathe dress in a complementary color, like gold, champagne, or gunmetal.
---
4

PVC Clutches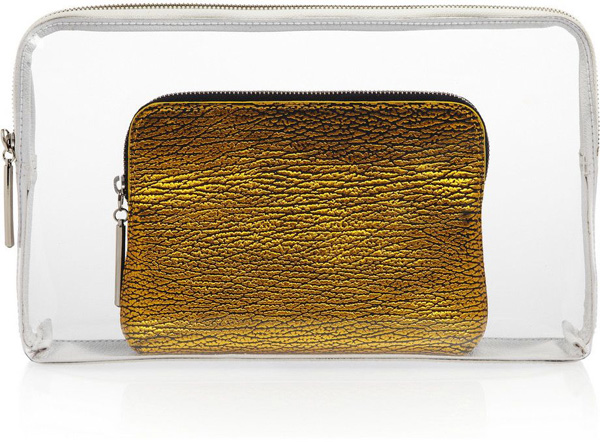 If you're into industrial, punk rock looks, take a look at this amazing embellished clutch from 3.1 Phillip Lim. With this example, you get an optical illusion sure to grab the eye, thanks to the transparency of the clutch itself and the detachable pouch inside. However, there are lots of PVC-inspired pieces floating around out there, just as cool as this one. Just make sure your outfit is just as fabulous, whether you pick something monochrome or a brightly colored ensemble.
---
5

Crystal Embellished Clutches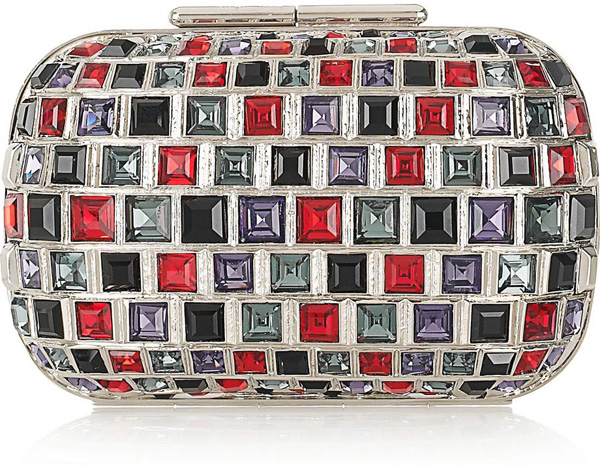 Glitter really makes a splash, but you could also go with a statement clutch bag decorated with dazzling crystals – and you don't have to turn to Jimmy Choo for the pleasure, although you have to admit that this two-toned crystal clutch is a beautiful thing. It takes on the boxy silhouette with rounded edges, but whether you choose something with sharp angles or sinuous curves, crystals add lots of bling to your look. Go easy with the jewelry when you carry a bag like this, but pick out a solid colored outfit that both contrasts and complements the purse's palette.
---
6

Culturally Inspired Clutches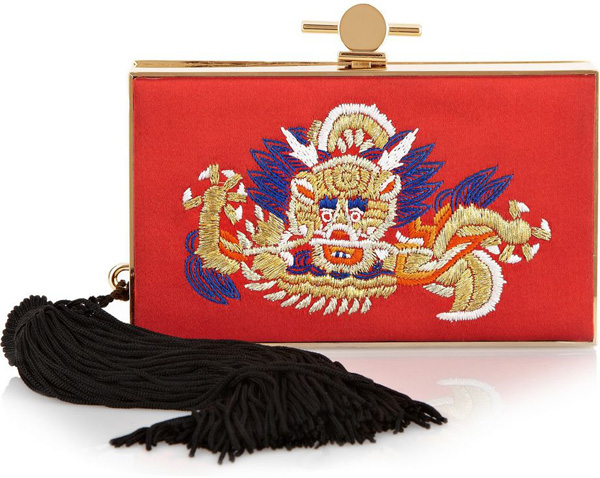 Jason Wu designs gorgeous statement clutches inspired by the rich cultural heritage of China, along with the sumptuous fabrics and decadent colors of the Qing Dynasty, specifically. Charlotte Olympia channels Russian culture filled with bright colors and stunning details. Many designers are creating clutches that feature other cultures, and they are absolutely incredible. Bags like these require similarly rich clothing choices of satin, silk, and lace in jeweled tones, like red, yellow, blue, and green.
---
7

Colorful, Studded Clutches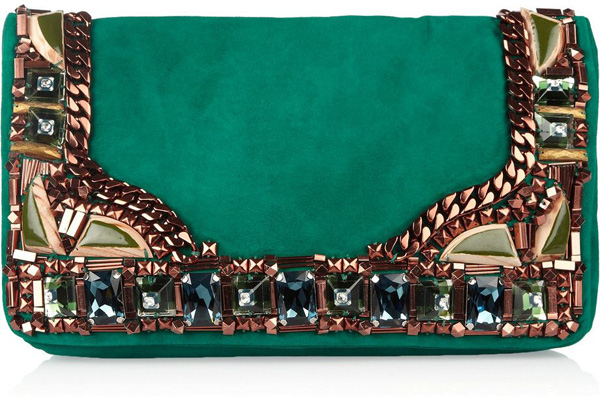 Another key element in choosing an embellished clutch bag is the color choice. Think outside the box. A lot of clutch bags have backgrounds of black, red, pink, or purple, but there are also lots of colors on the wheel. Rich emerald green, seen here in this suede piece from Matthew Williamson, really stands out in a crowd, as do vibrant yellows, blazing oranges, and electric blues. Don't match your outfit too much, either; continue your bold choices by going with contrasting patterns, fabrics, and colors.
It's actually a great idea to have more than one embellished clutch. Get a large one for those occasions when you need a little more room, a small one for those evenings when you're just taking your ID, some cash, and your cell phone, and one that works in the daytime or at night. Clutches are really versatile, and when you choose something really fabulous and embellished, you'll instantly be able to add pops of color and sizzling style to any look. What are your favorite glamorous clutches, do you prefer bright colors or dazzling embellishments?
Top Image Source: kasandranichole.blogspot.in
---
Comments
Popular
Related
Recent