Baroque bags are decadent, opulent, and marvelously over-the-top. They're old-world, decorative, and classic, yet today's extravagant handbags also have wonderfully modern twists and details. The whole baroque style is here with a vengeance, so this season you'll see lots of lace, black and gold ensembles, velvet, crystals, leather, and embellishments. This trend is so outrageous and gorgeous, you might even want to buy yourself a waistcoat! But if you're going to take that step, then you're also going to need lots of lavish baroque inspired accessories!
---
1

Appliquéd Handbags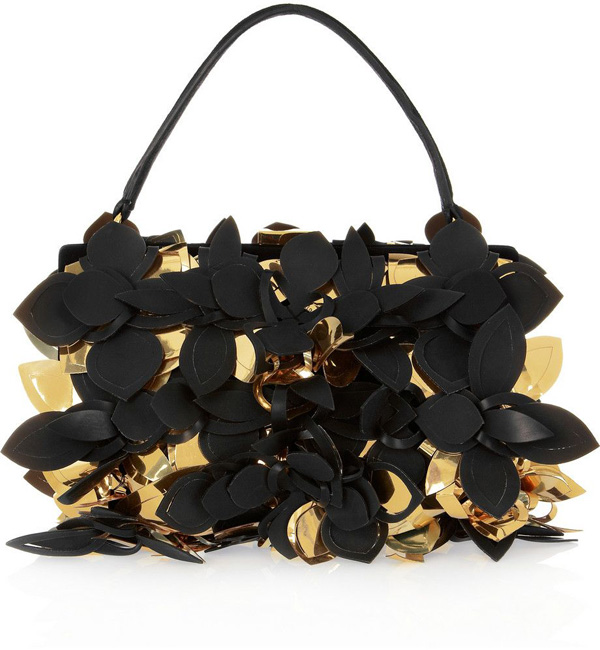 Expect to see lots of beautiful, fabulous baroque bags with appliquéd details, amazing textures, and lots of dimensions. This stunning suede bag from Marni, which features leaves made out of latex on suede leather, is an excellent example. Bags like this are flashy but so structurally flawless that they're eye-catching rather than ostentatious. Something like this makes the perfect evening bag, especially for formal but fun occasions. Feel free to go with matching clothing by choosing pieces that have their own baroque details, like brocade or glittering embroidery.
---
2

Dramatically Colored Baroque Bags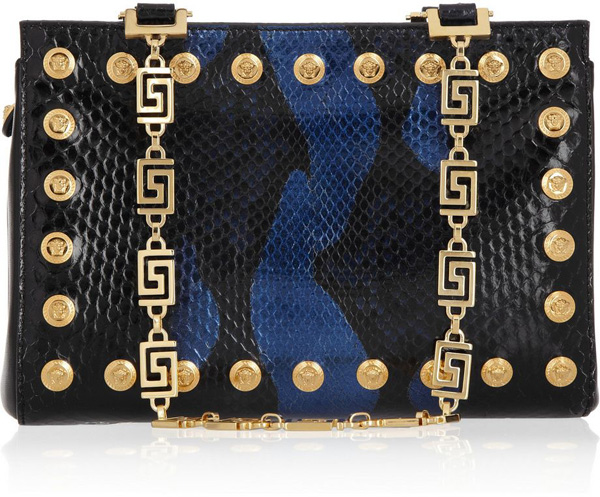 Although black and gold palettes feature heavily in this trend, don't be afraid to look for a baroque bag that makes use of other dramatic colors. For instance, Versace takes the trend to a new level by incorporating the essential elements and then making them stand out even more thanks to the introduction of a new hue. Dark blues, greens, and burgundies all work with this decadent style, just make sure that you, too, pick out something that matches those must-have baroque requirements (in other words, if it ain't baroque, don't fix it, ha ha!). Carrying a purse like this allows you to wear different colors as well, plus it easily transitions from day to evening or from casual occasions to formal functions.
---
3

Studded Leather Bags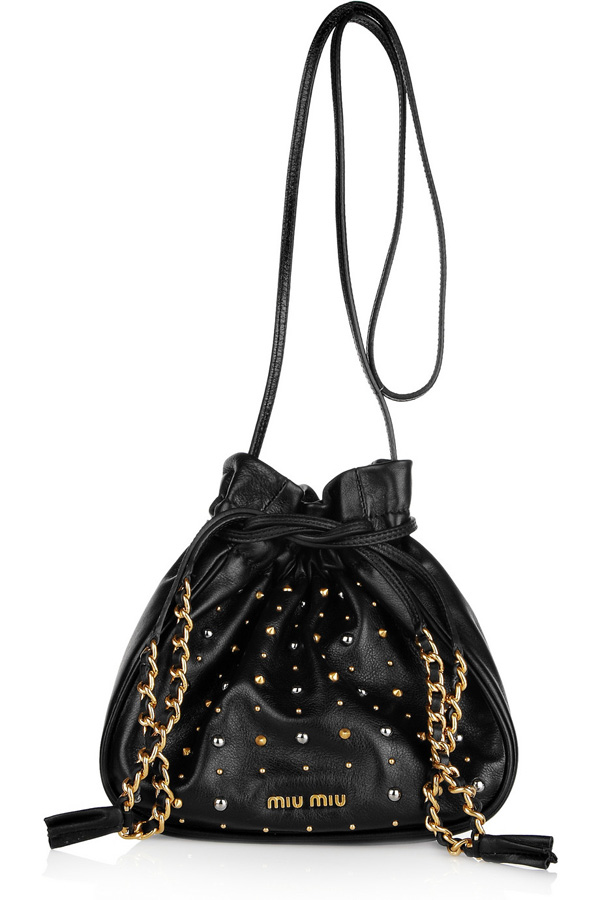 How do you make something so old world decadent look a little more modern? You mix the opulence with a punk rock edge. A lot of bags featuring the baroque trend are decorated with studs in gold, silver, and brass. This sumptuous leather Miu Miu bag is the perfect inspiration if you want something that both incorporates the extravagance but still works on a day to day basis. It will literally go with anything, from skinny jeans and sweater dresses to fitted business suits to funky cocktail frocks. In fact, if you choose a relatively simple, chic handbag like this, you can really go wild with your clothing choices.
---
4

Embroidered Baroque Handbags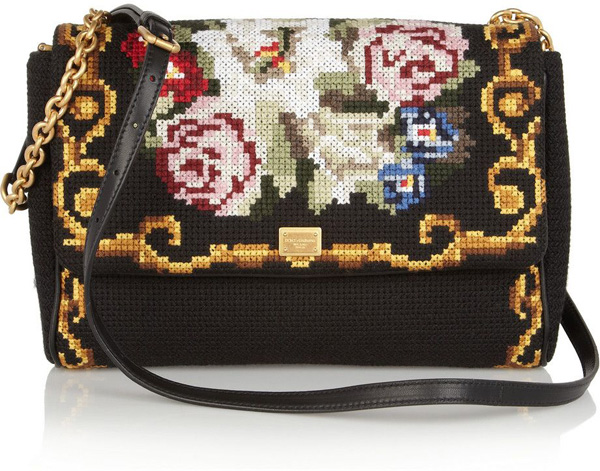 Many baroque bags have some kind of embroidery, but not just any embroidery. It has to be rich, dramatic, and appropriately luxurious. This is a Miss Charles shoulder bag from Dolce & Gabbana, for instance, which is embroidered with a truly breathtaking tapestry scene. It's less a bag, more a work of art, and in keeping with the classical aspects of the baroque trend, there are lots of similar totes, shoulder bags, and clutches floating around. The ideal look for something like this? An appropriately decadent LBD, of course.
---
5

Sleek Silk Clutches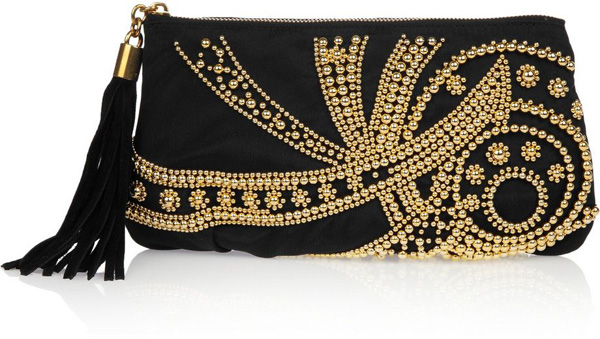 When you're looking for baroque bags, you have to think about fabrics and materials. Silk is always a winner, because it epitomizes everything about the baroque style. It's classic and classy, elegant but opulent, and absolutely gorgeous. This clutch, with its beautiful bead work, is actually from Emilio Pucci, who proves that you don't always need bright, sizzling colors to hit a fashion home run. The mix of black and gold is perfectly baroque and the tassels strike me as fabulously French. This, too, is the ideal accessory for a little black dress, or something long, sweeping, and similarly extravagant.
---
6

Unique and Quirky Purses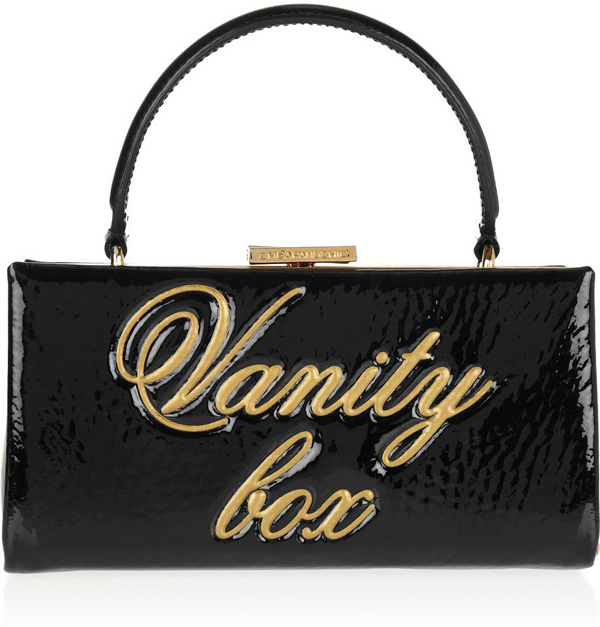 Not everything about the baroque trend is decadent and luxurious, though. In fact, the style itself embraces irreverence, so think about looking for an extravagant handbag that promotes true wit, quirkiness, or otherwise unique aspects. This is the Vanity Box clutch from Moschino Cheap and Chic, which really says it all. If you're inspired by this style, look for patent leather, lots of sheen, and neat structures.
7

Decadent Lace Handbags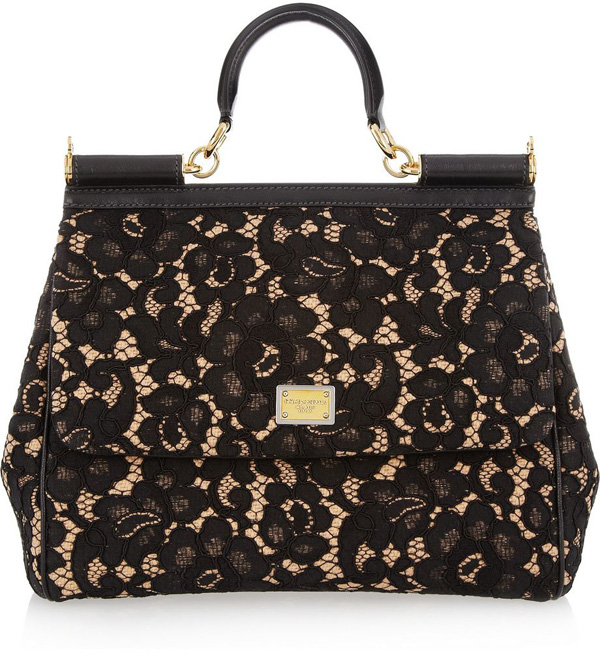 You definitely can't forget about lace. The baroque look is filled with it. You'll find it on pants, skirts, dresses, jackets, blouses, and shoes, so why not on handbags, too? Dolce & Gabbana knocks it out of the park here too, with a mix of lacy appliqué and stunning macramé. You'll be able to find a variety of handbags like this one in just as many styles, shapes, and silhouettes, all of which work with sleek business ensembles, fun but formal outfits, and really dressy looks.
When you're choosing baroque bags, remember that richness is the name of the game. You need luxe accessories to go with your decadent apparel choices. Even if you decide not to dress head to toe in lace or brocade and velvet, you can make the trend your own with the right bag. Just remember: embrace the decadence! Be opulent! I hope these amazing bags inspired you to try the look, because it's ideal for nighttime outings when you want to try something new. If you had one of these extravagant handbags, what kind of outfit would you put together?
---
Popular
Related
Recent