Even if you're not a fan of horseback, your closet is begging for some equestrian style bags this season. The equestrian trend is huge from top to toe, so get ready to invigorate your wardrobe with riding boots, cropped leggings, fitted jackets, and plenty of equestrian handbags as well. If you're looking for some details on that end, I've got you covered. Whether you're looking for designer bags, name brand pieces, or simply some style inspiration, take a look at these equestrian style purses and discover something that fits your personal style.
---
1

Chic Tartan Equestrian Bags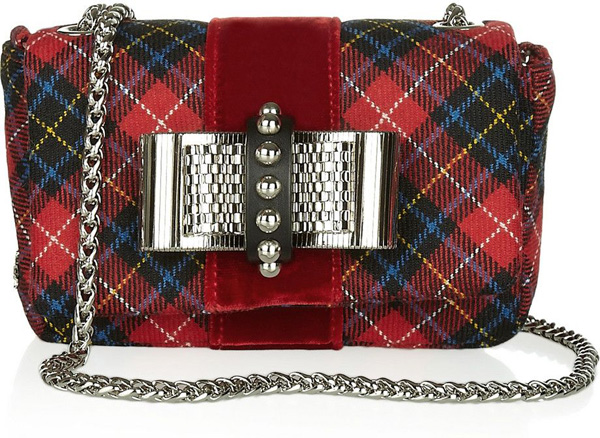 A lot of the hottest equestrian style bags incorporate tartan designs and fabrics, because nothing says chic and preppy like tartan. It's upscale, high fashion, and country couture, all in one. This Sweet Charity shoulder bag from Christian Louboutin is an excellent example of the style you should be looking for, because the chain and hardware give it some serious glamor while the velvet embellishment is incredibly feminine. With riding boots, a knee-length skirt, and a subtly ruffled top or a fitted, flared coat, you'll definitely rock the equestrian look.
---
2

Dual Textured Leather Bags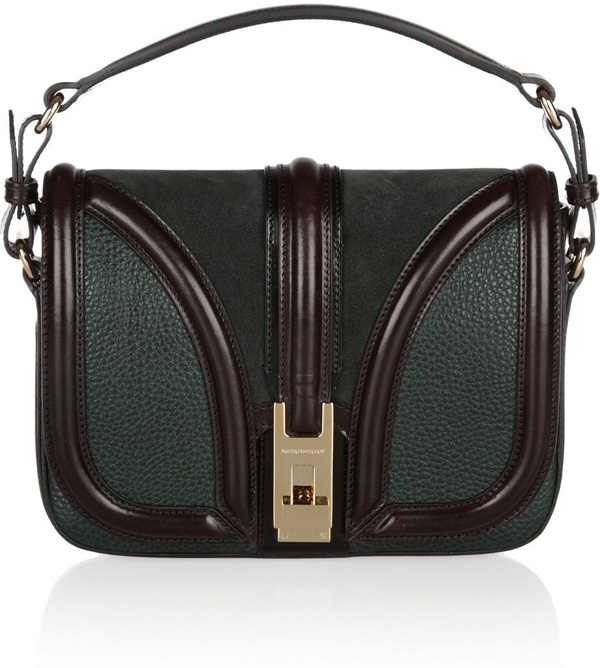 Textures make all the difference with this trend, so look for an equestrian style bag that uses different materials, fabrics, or colors. This bag from Burberry uses suede with textured leather for lots of dimension. It also makes use of color but still keeps things subtle. Remember that both greens and blacks work well with this look. This is a fantastic piece for daytime, so try it with a shift dress in different colors and matching leather flats.
3

Brown and Gold Suede Handbags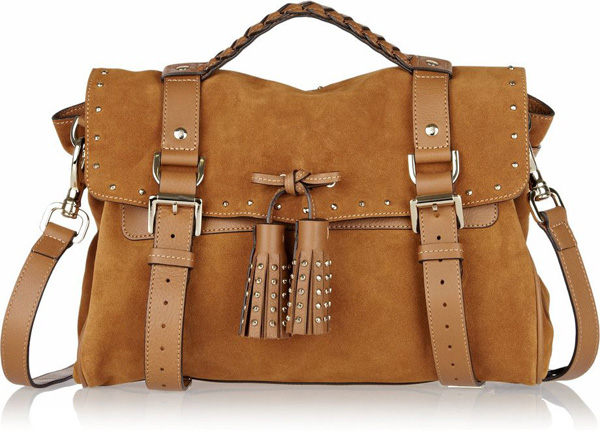 Browns and golds are essential as well, and the richer the better. Again, suede works beautifully with the equestrian trend, whether you're choosing bags, shoes, belts, or gloves. Make sure you choose something with eye-catching details, such as the tassels and studs on this piece from Mulberry. Believe it or not, yellow palettes mesh well with the trend as well (as you'll see!), and a bag like this looks amazing with subdued goldenrod or mustard shades.
---
4

Subtle Yellow Equestrian Style Bags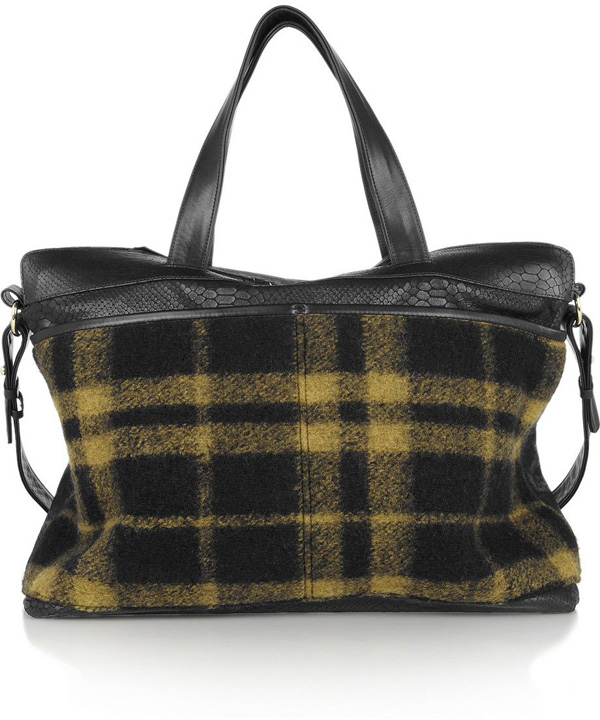 Told you! This is one of my favorite equestrian style bags, for several reasons: it showcases yellow marvelously, plus it's plaid, which is a key design for the equestrian look. This one is from Newbark, and it's made out of leather and felt, two materials that are theoretically necessary out on a ride. If you're wary about yellow, make sure you choose a bag that uses the color subtly in a lovely pattern; don't pick a bright, screaming buttercup yellow. Similarly, when picking out an outfit, go for darker colors and solids, so you don't clash. With a piece like this, blacks and greys are perfect, but if you choose to go with something that pairs brown and yellow, then rich shades of brown, beige, and camel are perfect.
---
5

Houndstooth Handbags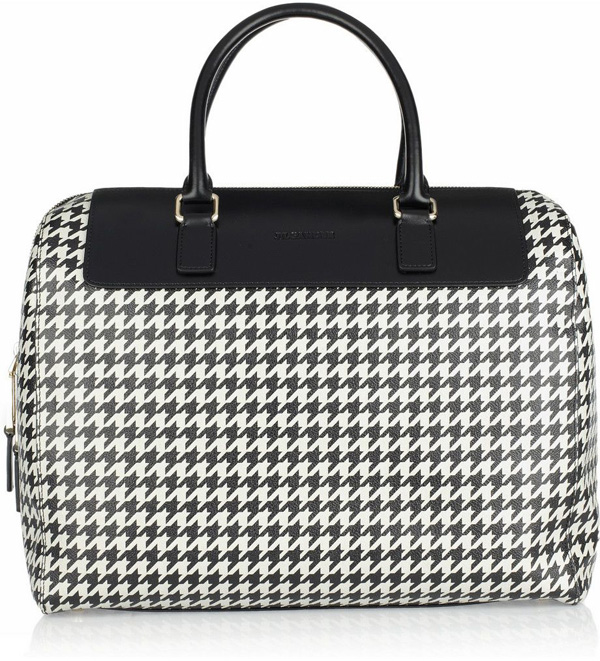 Here's another one of my favorite equestrian handbags, because I am a sucker for houndstooth! This piece is classy, chic, and simply gorgeous. It's simple and minimal, yet it perfectly showcases the elegance of the whole equestrian look. There are tons of houndstooth handbags floating around, many of which mimic the almost modern look of this leather-trimmed tote bag from Jil Sander. Your ensemble options are practically endless with a bag like this. Mix different colors, like navy and dark green or bright splashes of red, choose gold or silver jewelry, and play around with your footwear. High heels look just as fabulous as flats or knee-high boots.
---
6

Retro Bucket Style Bags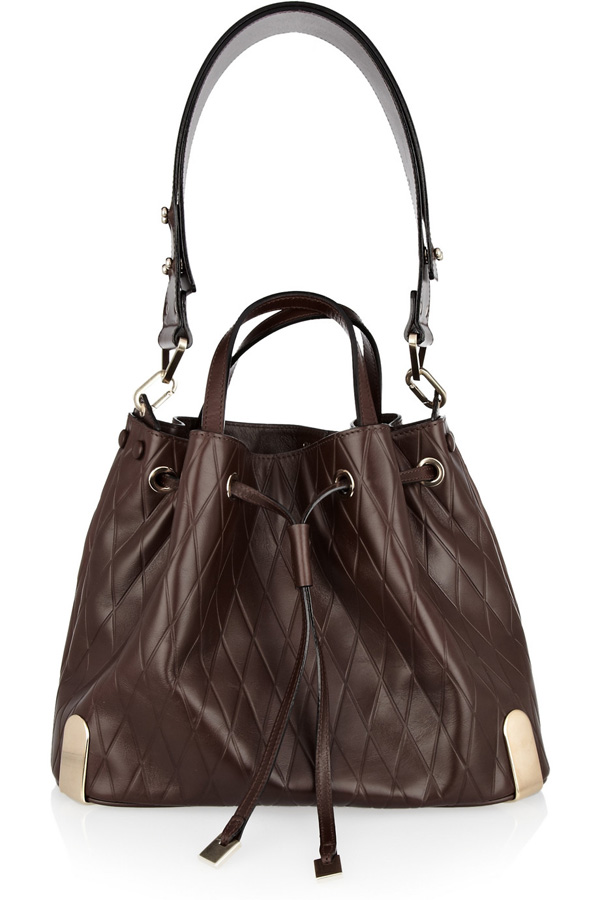 Silhouettes are important too. Lots of riding bags feature a bucket shape like this purse from Chloe. They're a little retro and a little elegant, making them incredibly versatile. You'll usually find them in leather, like this, with a bit of gloss or texture, because that look suits the shape and style so beautifully. Dark chocolate is an essential, flattering neutral, plus it lends itself well to a variety of color choices. In keeping with the hardware, choose gold jewelry, along with creams, camels, or pinks, and patterns like plaid or unique houndstooth. For instance, instead of choosing a black and white houndstooth, think about cream and navy.
---
7

Pretty Plaid Purses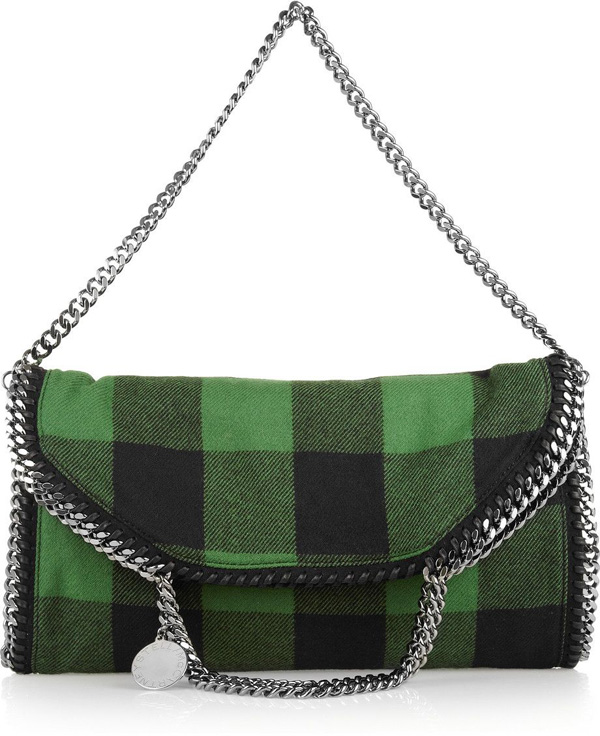 Plaid, plaid, plaid: it's practically a must for any riding inspired ensemble. Plaid gloves or scarves, shoes or belts, bags or wallets, even the lining of your coat – you've got to have it somewhere. Personally, I prefer plaid equestrian style bags. This beautiful woolen shoulder bag from Stella McCartney fulfills two purposes: it takes care of the plaid necessity plus it's green, which is a hot color choice this season. Whether you make others green with envy or find a bag with this pluperfect pattern, dress it up with solid blacks and variations on the contrasting palette. For instance, a lighter green sweater dress matches this purse perfectly.
---
8

Leather Messenger Bags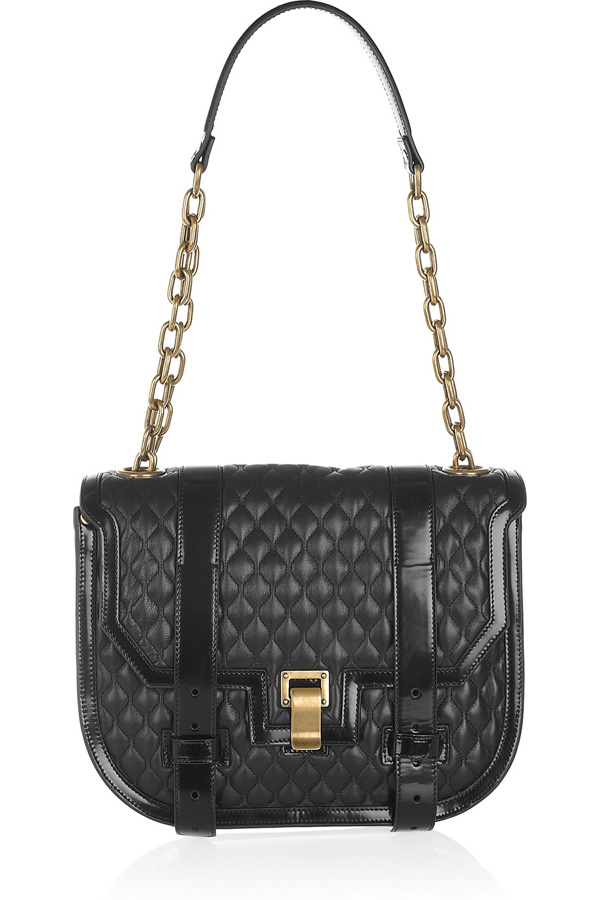 Messenger bags work well with the equestrian trend too. You just have to make sure they're elegant and luxurious, so it's a good idea to go with leather. This piece from Proenza Schouler features quilted leather and gold hardware, but you could also look for something with colorblocking, silver details, or a different texture. Just stay away from patent leather, because it's a little too bright and shiny for this look. Remember, keep things subtle and understated. Something like this looks amazing with a long riding coat and high waisted pants.
---
9

Hobo Style Equestrian Handbags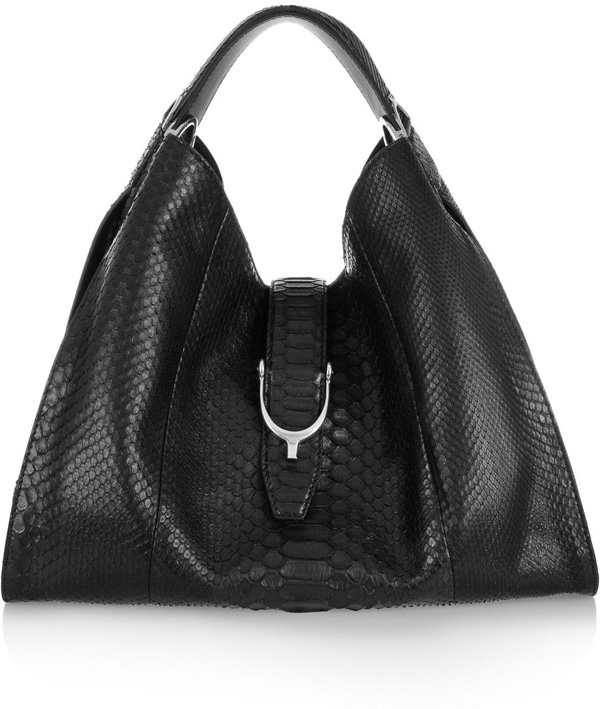 Leave it to Gucci to pick something chic, simple, and utterly stylish. If you already have a hobo bag, you've already mastered the equestrian look. Whether you go with python, like this purse, plaid, houndstooth, herringbone, or textured brown leather, this silhouette is ideal. Go with this particular Gucci bag or something like it, because it even has horsebit accents that keep with the overall trend. Your outfit? Solid colors all over, with bold shapes and patterned accessories.
---
10

Woven Tote Bags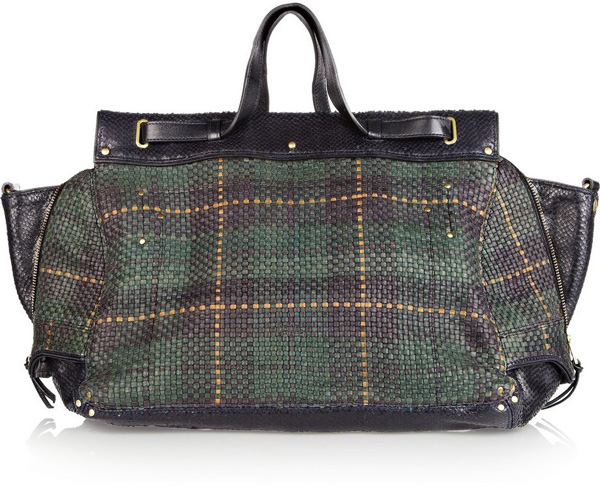 Totes are totally in when it comes to equestrian bags, and if they're woven, then so much the better. Naturally, I love this leather tote from Jérôme Dreyfuss because, again, you get a little plaid in the mix. It doesn't have to feature plaid or any other pattern, just go for the overall shape and design when you're looking for inspiration. It's also best to choose something that goes with a lot of different colors and styles.
I love plaid and houndstooth equestrian style bags the best, but the overall styles and silhouettes are gorgeous, too. You don't have to follow the trend completely; just choose bits and pieces, like bags and pants or jackets and shoes. Even if you aren't an equestrian yourself, there's no reason you can't look like one. What do you think about riding bags and clothing options? Let me know your top trend for fall and winter!
---
Comments
Popular
Related
Recent