Handbags from Guess are always the most interesting and unusual. They always have an abundant variety of styles and colors. Today, when designer handbags are carried by girls of all ages, it's nice to have a great less expensive brand to fall back on. Even without seeing their logo, I can usually spot handbags from Guess because of their styling. Maybe you'll find a couple to fall in love with here.
---
1

Delaney Small Classic Tote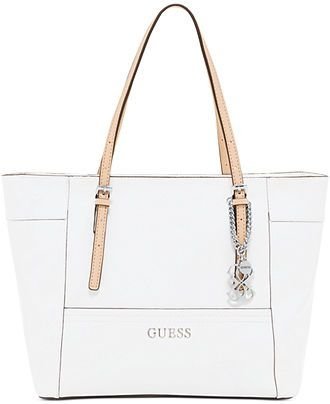 One of the best-selling handbags from Guess is this good looking faux-leather tote. This handbag is perfect for a winter white look and of course, just perfect for summer. The 'Delaney' style, also comes in black, cognac and signature Guess styles. I found this winner on Guess.com.
2

Isella Top Handle Flap Satchel Handbag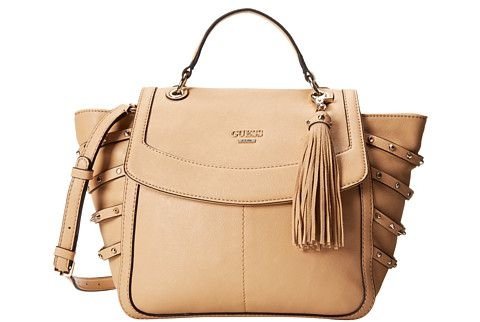 I'll usually pass up a handbag with a flap because I think it gets in the way, but with a bag this beautiful, I have to make an exception. This satchel is made of polyurethane and features stud detail, a back zip pocket, an interior zip pocket and a crossbody strap. And what a versatile color! Find it at Zappos.com.
---
3

Hula Girl Uptown Carryall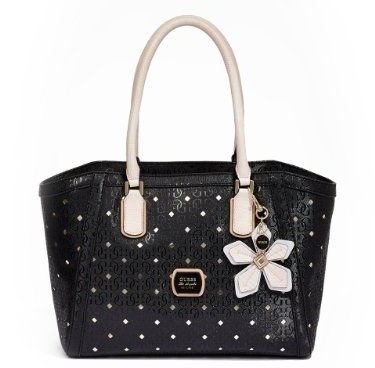 Prepare to get compliments galore on this cute and roomy carryall. Details include a back zip pocket, Guess logo, floral charm, and perforated exterior. Now, this bag is black, but with the white trim, I'm seeing this as a spring and summer bag. It comes in several colors, all suitable for warmer weather, at Macy's.
---
4

Trixia Uptown Satchel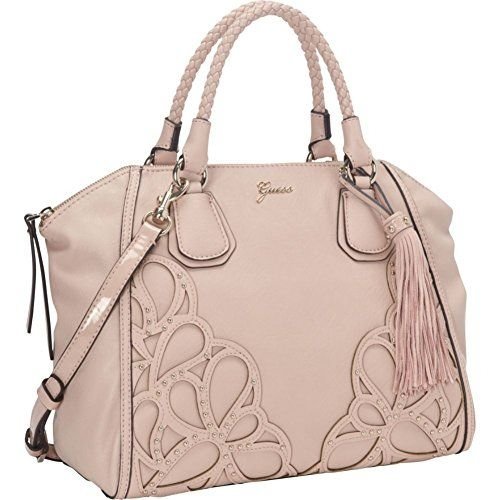 The 'Trixia' comes in black, a very good looking sand, and this pink gloss. While this bag will look great with any outfit, my preference would be skinny jeans, a white T-shirt and a great fitting navy or black jacket. Add a great pair of peep toes or short boots. Resist the urge to match your shoes to this great bag. Catch it at Macy's while it's in stock.
---
5

Tough Luv Small Box Satchel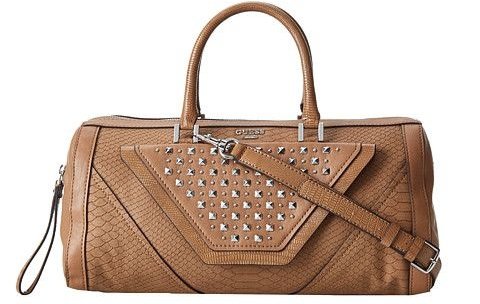 I added this bag because I thought it was the cutest most stylish bag I've seen in a long time. I love the stud details and the box shape, so no collapsing here and there's a top zip closure that I like much better than snaps, which I never seem to bother closing. See it at Zappos, where it also comes in white.
---
6

Hula Girl Petite Crossbody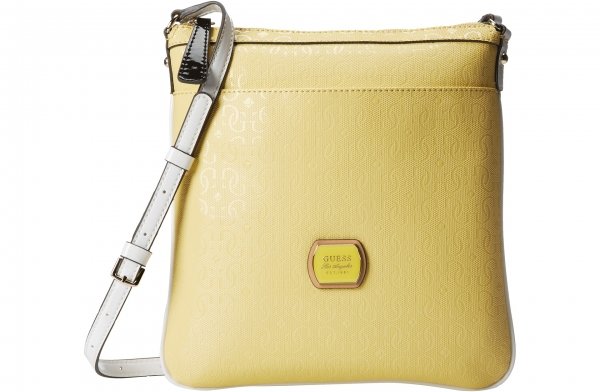 A great stylish bag that I can just admire. These slim bags look best when they're not stuffed with all the junk that I carry. For those that can appreciate the beauty of this slim crossbody, wear it with navy blue and white for a smashing look. I found this treasure at Zappos.com
---
7

Confidential Petite Crossbody Flap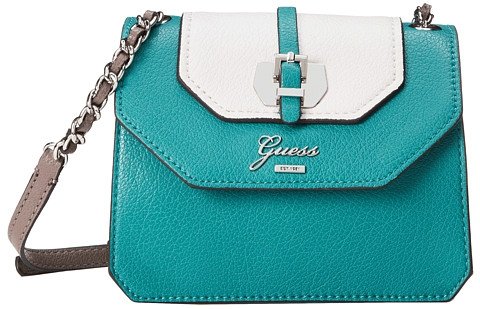 This beautiful bag will get second and third looks. If you're a lover of red handbags, you're in luck, this petite crossbody comes in teal and bright red at Zappos.com This is a very structured bag, so if you're fond of handbags that won't collapse when empty or lightly filled, this is the one for you.
Many years ago, I bought a white tank watch from Guess and from that moment on, I became a fan of the brand. How about you? Do you find their styles appealing? What is your favorite brand of handbag in the same price range as Guess?
---
Comments
Popular
Related
Recent